Beyond the Classroom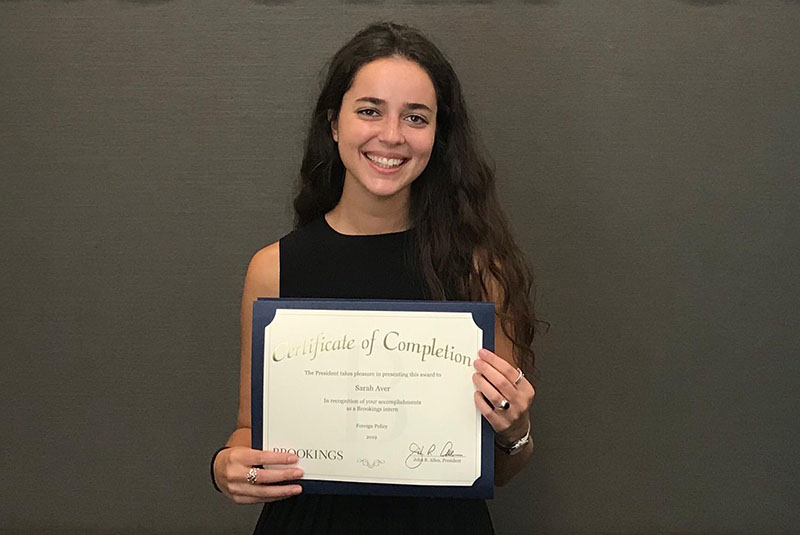 Sarah Aver
Johns Hopkins SAIS-Tsinghua Dual Degree '19
During her first year of graduate school at Johns Hopkins SAIS, Sarah began searching for a summer internship position that would allow her to develop expertise on her long-standing interest in China and offer her the opportunity gain work experience in policy planning. This encouraged her to apply for a position as a research intern at the Foreign Policy program, in the John L. Thornton China Center at The Brookings Institution in Washington DC. In her role, Sarah researched China's strategic vision and America's response to China's rise. She was also responsible for research and compilation of background briefings on topics such as current developments in US-China relations and Chinese leadership.
The internship at Brookings was a valuable way for Sarah to expand upon the knowledge she gained as a Johns Hopkins SAIS-Tsinghua Dual Degree student and her studies on the global geopolitical implications of China's rise from the Chinese perspective. It also offered her additional insights for some of her classes, such as International Crises and International Law in which she wrote a final paper on a comparative study of China's Artic policy and China's policy toward territorial disputes in the South China Sea. Furthermore, the internship allowed Sarah to fine-tune her Chinese language skills by analyzing sources in both Chinese and English on China's domestic policies. During her internship, Sarah was also working on her capstone, which made the school's close proximity to the Brookings Institution very convenient in allowing her to have access to the resources she would continue to need throughout the summer located in the school's building.
Upon graduating from Johns Hopkins SAIS, Sarah started a position at NATO Parliamentary Assembly in Brussels as a Research Assistant. At NATO PA, she has undertaken a breadth of responsibilities, including conducting research on Russia and China's disinformation campaigns in the Euro-Atlantic area, the implications of China's rise for the security of the Alliance, and Women, Peace and Security within the context of NATO.