Confronting Global Challenges Through Protective Face Masks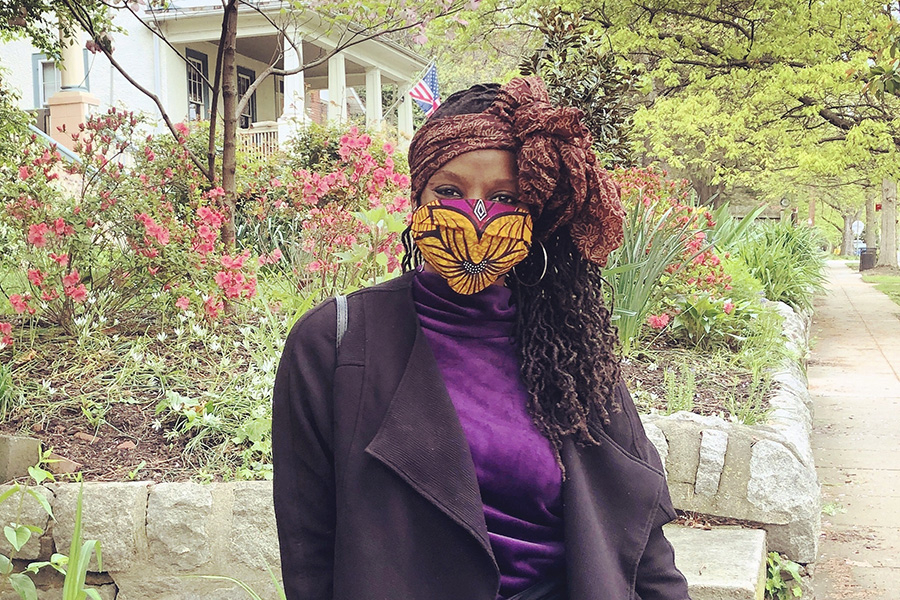 We talked to Leah Danville, MA '20, founder of Bolehlah Accessories, on her efforts to keep people safe during the global coronavirus pandemic by making protective face masks.
 
Leah always wanted to create something that would bring different cultures together in a creative way. She never thought that it would be in the form of face masks to protect people during a global pandemic.
 
Bolehlah Accessories started back in 2014 upon her return from two years teaching English in Malaysia as a Fulbright scholar. She collected a lot of fabric during her travels throughout Asia and wanted to stay connected to the place she called home while exposing others to the beauty of Asia. She continued to collect fabrics during subsequent travels and used them to make lifestyle accessories (fabric earrings, throw pillows, bow ties, etc.).
 
When Leah began her graduate studies at Johns Hopkins SAIS, Bolehlah Accessories was put on hold, but when the coronavirus outbreak altered our daily lives, she felt there was no better time to bring it back. In early April, she created a mask for herself and posted it on her personal Instagram account. Since then, she realized there is a huge need out there. To date, she has received over 200 orders from people who have the luxury to shelter in place safely but have been unable to secure one of the most vital commodities to date, a face mask. Although her bandwidth is small, she is dedicated to helping people stay safe, and stylish, during these difficult times.

When it comes to confronting global challenges, Leah's time at SAIS has confirmed that there are no small solutions when it comes to solving some of the world's most challenging problems. She believes that sometimes the best approach is to take a macrolevel perspective and find a microlevel solution that is effective, efficient, scalable, and sustainable. Today it's face masks, tomorrow maybe it's health policy. SAIS has provided Leah with the skill set to do it all.

After graduating, Leah's immediate goal is to go into international development consulting. She believes it would be the perfect convergence of her creativity and the strong economic foundation she has built as a student. In her professional experience she has worked in various sectors as well, so she feels that consulting would be the perfect way to support change in various development areas. Her ultimate goal is to own businesses, all focused on bridging culture gaps through various forms of cross-cultural communication. 

To take a look at Leah's creations visit Bolehlah Accessories or on Instagram @bolehlah_accessories.