On the Fast-Track to Advancing My Career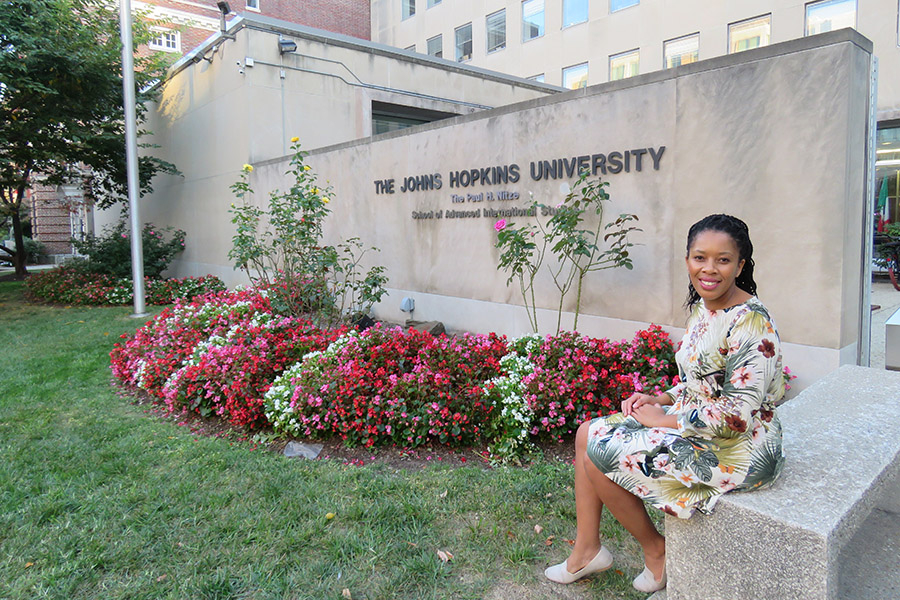 Tebogo Serepong
Accelerated Certificate in International Development
Home Country: South Africa 

Prior to attending Johns Hopkins SAIS, Tebogo worked within the South African mining, utilities, and infrastructure industries in both the public and private sectors. She sought a better understanding of international economics, politics and policies, and she believed that Johns Hopkins SAIS' accelerated graduate certificate would be the perfect way to acquire the career shaping tools to promote sustainable economic growth in developing countries, help eradicate poverty, and improve people's lives.

During her certificate program, Tebogo was very impressed with the faculty and coursework, which she said gave her an unprecedented learning experience. Her classes examined sustainable economic growth in emerging markets, international negotiations, and the creation of ecosystems that will allow developing countries to be economically competitive with the rest of the world. In addition, she found the school's academic advising to be very helpful in tailoring her courses to complement her current job and steer her career in the direction she envisioned for the future.

Tebogo also took advantage of the school's many exciting extracurricular activities. Coming from South Africa which has 11 official languages and is affectionately known as 'The Rainbow Nation,' one of Tebogo's favorite experiences was the annual International Dinner organized by the Student Government Association. Joining students in exhibiting their cultural cuisine and showcasing traditional attire, music, and dance was very memorable for her. 

Although working full-time and studying could be challenging at times, Tebogo believes the added effort was worth it, as her time at the school was filled with immense professional and personal enrichment. Engaging with classmates from diverse backgrounds encouraged the sharing and collaboration of knowledge in a wonderful learning experience that she hopes to experience again by enrolling in another Johns Hopkins SAIS program in the future.
 
Words of Advice to Prospective Students

If Tebogo could offer advice to prospective students looking to pursue an accelerated graduate certificate, she would recommend taking full advantage of the school's multidisciplinary curriculum, which allows you to shape and structure your coursework to your particular interests and enables you to enhance your existing areas of expertise while developing new ones.                               

She also recommends making the most of your time at the school. Even though you may be enrolled in a non-degree program, you should still immerse yourself in extracurricular activities, utilize the wealth of student resources available, and establish long lasting networks with your fellow students and professors.