Using a Non-Western Lens to Redefine Global Conflict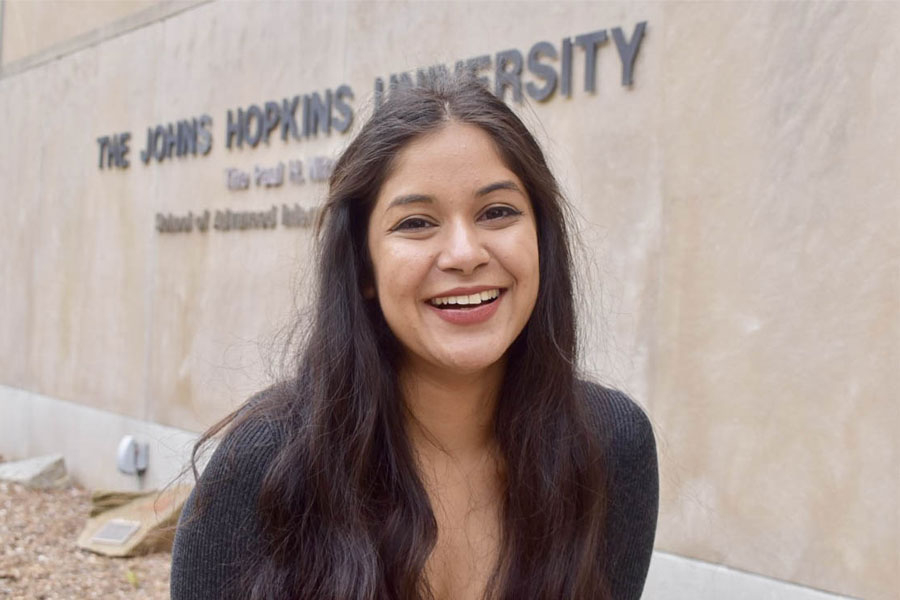 Smiti Mathur
Master of Arts in International Relations

What encouraged you to apply to Johns Hopkins SAIS? 
The faculty and scholarship drew me to SAIS. I looked up the program's courses before applying and found myself excited by the variety and depth of what was offered.

The school's location in the heart of D.C. was also very attractive. Every day when I walk past embassies and prominent think tanks, I feel the importance of what I am studying and the power of where I am.
 
What were you doing before attending the school? 
I graduated from Ashoka University, India in the middle of the pandemic and was contemplating what I wanted to do with my life after. I love research and worked on an economics project with Ashoka University and the University of Chicago, studying the effects of WhatsApp on political behavior.

During my undergrad, I also spent four years honing an education program in a village in rural India. This brought up questions about caste and class politics within the education system and Indian culture. I knew then that I wanted to study this more deeply to understand how previously colonized countries can amend inherited institutions to create a more empowering structure.

What program are you in and what do you hope to gain from it?
I am in the MAIR program. In my undergrad, I studied Literature and Political Science which seems vastly different from international relations. But all these fields interact together very interestingly. After gaining a strong theoretical base from my undergrad, I am able read the way global conflicts play out as they happen because of the way we learn at SAIS.

I hope to understand how international diplomacy affects domestic politics through the MAIR program. Specifically, I am interested in the politics of South Asia. I have always been intrigued by the complex, changing relationships between the state, tradition, and marginalized communities as well as the always-evolving cultural and political concepts unique to the area. I hope to learn how to employ a non-western lens to redefine how we understand some of these concepts.

What has been one of your favorite experiences or classes at the school so far? 
My favorite classes so far have been ones that speak to my past experiences and personal curiosities. In the fall, Professor Devesh Kapur's class called "India's Challenges" inspired so many questions and helped me redefine my understanding of Indian politics. Professor Lisel Hintz' course "Politics of Protest in Europe and Eurasia" has also been a favorite. The class helped me academically analyze seemingly abstract concepts and introduced me to a new way of understanding world politics: through the lens of dissent and voices of the marginalized.

As a first year, what are some things you are looking forward to? 
I am looking forward to events held by the clubs and societies on campus. I always learn a lot through conversations with other SAIS students. Recently, a group of us started the South Asia Society and I am excited to see how we can engage with the issues and successes in that area. I also want to explore D.C. more. There's so much to learn from the city itself because it is full of museums, libraries, and interesting people.

What do you hope to do with your degree after you graduate?
I know I am interested in research and theory so I would like to work at a place that allows me to use my interests to do something impactful, but I am still figuring out what exactly I want to do after graduating. So many different things interest me.

---
Enjoyed reading Smiti's experience? Learn more about our 
Master of Arts in International Relations
.
Back to Student Stories