Virtual Staff Ride: The Iranian Revolution and Hostage Crisis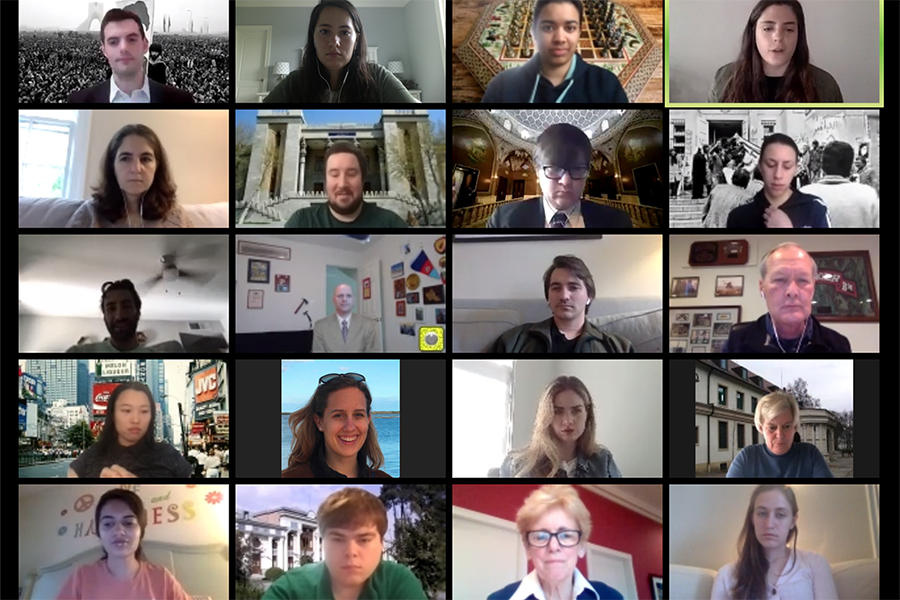 Like many students, James Byers MA '20 and Anne-Marie Mills MA '20 had big plans for spring 2020. The two were on the research team planning the Strategic Studies program's international staff ride to Israel. When that event was canceled due to travel restrictions of the coronavirus pandemic, the two pivoted to a virtual staff ride exploring the Iranian Revolution and Hostage Crisis.

With guidance from Director of Strategic Studies Mara Karlin and Associate Director of Strategic Studies Paula Thornhill, Byers and Mills took on the charge of organizing the virtual staff ride as quartermasters. Aided by a talented team of student researchers and a deep roster of faculty with expertise and close ties to the subject matter, the team was able to produce a highly engaging and rewarding learning exercise.

Students and faculty played roles of historical figures to explore the crisis from a wide array of perspectives. Scenes of the conflict were simulated with players in the roles of intelligence operatives, diplomats, hostages, political leaders, dissidents, clerical leaders, special forces commanders, and more.

The level of detail the faculty and participants brought to the scenarios was impressive. Assistant Professor Narges Bajoghli provided a briefing on how the hostage crisis was portrayed in the media and in state propaganda. Professor Karlin played the role of her own brother-in-law, a university student in Tehran who witnessed the revolution on the ground. Visiting Professor David Barno played special forces commander Col. James Kyle who led Operation Eagle Claw—the ill-fated attempt to rescue the American hostages. The dramatization became all the more real when joined by Ambassador John Limbert, one of the American hostages who was held captive for more than a year during the crisis. 

With 40 players and dozens of presentations and debates, this six-hour exercise was far from the typical virtual event. But as Byers noted, ongoing conflict and lack of diplomatic relations between the US and Iran means that traveling there in person would be impossible. In the virtual format, this event turned into an excellent example of learning beyond the classroom that students at Johns Hopkins SAIS enjoy.