WTO Director General designate Ngozi Okonjo-Iweala to deliver Johns Hopkins SAIS Commencement Address on May 26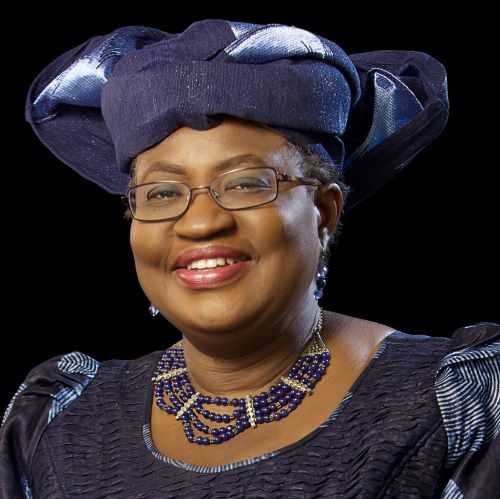 MEDIA ADVISORY
Ngozi Okonjo-Iweala, Director General designate of the World Trade Organization (WTO), will deliver the keynote address during the 2021 commencement ceremony for the Johns Hopkins School of Advanced International Studies (SAIS) on Wednesday, May 26.
 
An economist and international development expert with more 30 years of experience, Okonjo-Iweala is in line to become the first woman and first African to lead the WTO. Okonjo-Iweala is co-chair of The Global Commission on the Economy and Climate. She recently chaired the Board of Gavi, the Vaccine Alliance from 2016 to 2020, and the African Risk Capacity from 2014 to 2020. Previously, she served as Senior Advisor at Lazard from 2015 to 2019. Okonjo-Iweala was recently appointed as the African Union's COVID-19 Special Envoy and the World Health Organization's COVID-19 Special Envoy. She currently sits on the boards of Standard Chartered Bank and Twitter, Inc.
 
Okonjo-Iweala served twice as Nigeria's Finance Minister, and as Foreign Minister, the first woman to hold both positions. She spent a 25-year career at the World Bank as a development economist working on economic development programs and policy reforms, including trade policy in middle and low-income countries. She ascended to the number two position of managing director at the World Bank, overseeing an $81 billion operational portfolio in Africa, South Asia, Europe, and Central Asia.
 
Okonjo-Iweala's accolades include being named Forbes' African of the Year in 2020 and Nigeria's This Day newspaper's Minister of the Decade and 2020 People's Choice Award recipient. She also received World Affairs Councils of America's International Service Award and the Aminu Kano Award for Leadership in 2020. In 2019, she was named one of eight Female Anti-Corruption Fighters Who Inspire by Transparency International. Okonjo-Iweala was included in Fortune's 50 Greatest World Leaders list in 2015, Forbes' Top 100 Most Powerful Women in the World list consecutively for four years, Time's Top 100 Most Influential People in the World list in 2014, and The Guardian's Top 100 Women in the World list in 2011.   
 
Throughout her career, Okonjo-Iweala has written numerous articles on finance and development and the following books: Fighting Corruption is Dangerous: The Story Behind the Headlines and Reforming the Unreformable: Lessons from Nigeria. She also co-authored Women and Leadership - Real Lives, Real Lessons and co-edited The Debt Trap in Nigeria. Okonjo-Iweala holds a bachelor's degree in economics from Harvard University and a doctorate in regional economics and development from Massachusetts Institute of Technology. She is an Angelopoulos Global Public Leader at the Harvard University Kennedy School, a fellow of the American Academy of Arts and Sciences, and has received sixteen honorary degrees, including from Yale University, the University of Pennsylvania, Brown University, Tel Aviv University, and Trinity College in Dublin, Ireland.  
 
Okonjo-Iweala will deliver a virtual address to approximately 2,000 graduates, faculty, staff, family, and friends in the Johns Hopkins SAIS community. The school will confer degrees to nearly 500 students in the Master of Arts, Master of Arts in International Economics and Finance, Master of Arts in Global Policy, Master of Arts in Global Risk, Master of International Public Policy, and Doctorate programs.  

Media Contact
Jason Lucas
Communications Manager
Johns Hopkins SAIS
+1 (202) 663-5620
jlucas27@jhu.edu  

Johns Hopkins SAIS
A division of Johns Hopkins University, the School of Advanced International Studies (SAIS) is a global institution that offers students an international perspective on today's critical issues. For more than 75 years, Johns Hopkins SAIS has produced great leaders, thinkers, and practitioners of international relations. Public leaders and private sector executives alike seek the counsel of the faculty, whose ideas and research inform and shape policy. Johns Hopkins SAIS offers a global perspective across three campus locations: Bologna, Italy; Nanjing, China; and Washington, D.C. The school's interdisciplinary curriculum is strongly rooted in the study of international economics, international relations, and regional studies, preparing students to address multifaceted challenges in the world today.
 
For more information, visit sais.jhu.edu or on Twitter @SAISHopkins
 
###