Alumni and Careers
Alumni know exactly what it means to earn a degree at the Johns Hopkins School of Advanced International Studies (SAIS). You know the curriculum, caliber of faculty, and you understand how this background fits into your own chosen profession.
More importantly, you know that our students are bright, talented, and ambitious. We welcome the opportunity to partner with you and connect high-quality candidates with challenging and interesting internships and employment opportunities.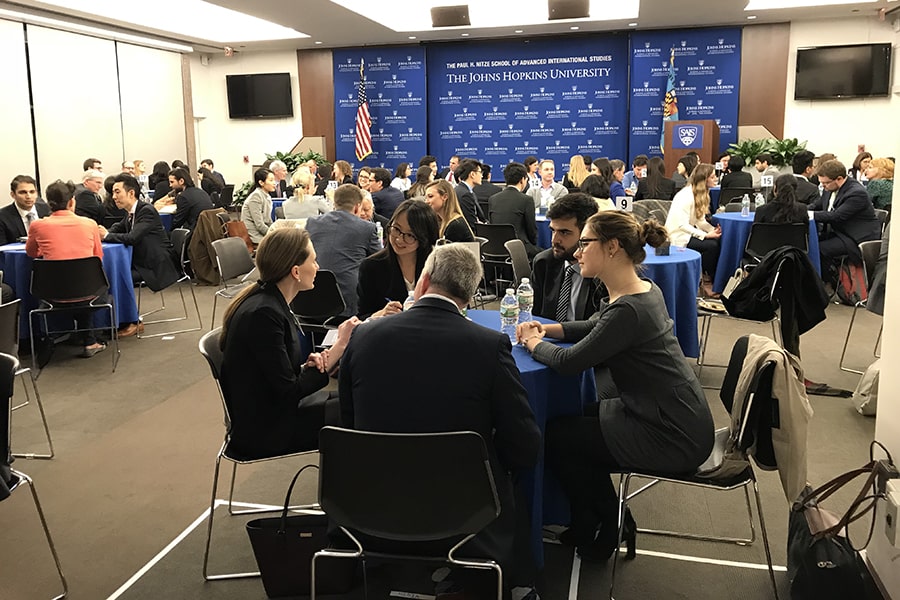 Employer Site Visits
Host a group of students at your place of employment. Arrange for them to meet with a group of alumni and human resources staff.
Career Treks
Help us coordinate alumni panels and employer visits for a group of students in your city or region.
Mentoring Program
Volunteer to serve as a mentor via the school's career development mentoring program. Learn what it takes to establish a successful mentor relationship with a talented student interested in your career advice and counsel.
Informational Interviews
Meet with students one-on-one and talk more in-depth about your career path and provide specific feedback on working in your field.
Mock Interviews
Help students practice specific interview skills. We would be happy to organize sessions in our office, help connect students with you electronically, or send students to you.
Meet Ups
Meet informally over breakfast or lunch to discuss your career and provide feedback to a smaller group of students on their interest in your field.
'Talk with an Expert' Information Sessions
If you would like to speak on a specific professional development topic or subject to a group of students, please let us know.
Washington Week
Speak in a series of panels to give students insight about different industries, including but not limited to, consulting, international development, energy and the environment, US federal government, and think thanks.
International Student Networking Event
Share about the challenges and benefits you faced during your US job search and meet with students interested in your field.
Formal Recruiting
We appreciate the opportunity to meet recruiting staff members in your organization to set up a more formal recruiting relationship. To see the services we provide, please visit 'For Employers'