First Anniversary of Russia's War in Ukraine: What's Next for Europe and the World?
February 23, 2023
In a special event marking the first anniversary of Russia's War in Ukraine, SAIS Dean Jim Steinberg moderated a hybrid panel discussion on the war and what comes next for Europe and the world.
Joining Dean Steinberg for the discussion on February 23, 2023, were four panelists: Anne Applebaum (SAIS Senior Fellow of International Affairs, and Senior Fellow at the SNF Agora Institute); Mary Sarotte (SAIS Marie-Josée and Henry R. Kravis Distinguished Professor of Historical Studies); Thomas Rid (Director of the Alperovitch Institute for Cybersecurity Studies, and SAIS Professor of Strategic Studies); and Michael Kofman, Research Program Director in the Russia Studies Program at CNA (an independent national security research and analysis organization).
It's become pretty clear that this war will end when the Russians understand that it was a mistake, whatever that [understanding] looks like.

Anne Applebaum
Steinberg began by asking the panelists what surprised them the most about how the Russia-Ukraine war had unfolded during its first year. Applebaum pointed to the underwhelming performance of the Russian military as one of the most significant surprises—the Russians were almost universally expected to wield a far more nimble and effective fighting force. She also cited how quickly Germany changed its policy to provide military support to Ukraine, as well as the resilience and resolve of the Ukrainians, who managed to put aside their often bitter and divisive politics and come together in defense of their country.
Picking up on the theme of Ukrainian resolve, Rid recalled how, as Russian troops were massing near the Ukrainian border in February 2022, some attendees at the Munich Security Conference (held February 18-20, 2022) expressed their belief that Ukraine's president Volodymyr Zelensky would flee the country, or even defect, if Russia invaded. "Some joked about the amount of luggage [Zelensky] likely would have brought to Munich," Rid said. Such speculation was proved wrong after Russian tanks rolled into Ukraine less than a week later, on February 24. Zelensky stayed put and turned down offers to help him leave the country.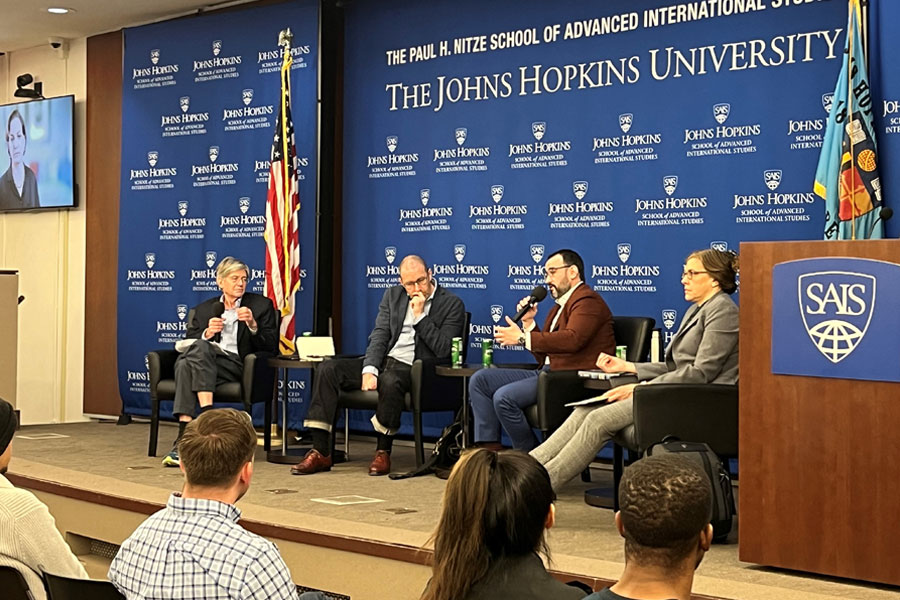 Kofman noted how overconfident and foolhardy the Russian military was at the outset of the war. "They really didn't have a plan B," he said. "They only assumed that the war would last, at most, about two weeks." While also acknowledging the preponderance of prewar observers who underrated the Ukrainians, Kofman said he was surprised by how "U.S. policy turned on a dime" with regards to intelligence sharing and material support for Ukraine, significantly bolstering the Ukrainian war effort.
Sarotte, stressing that Russian president Vladimir Putin has a habit of using hostile or downright violent acts to mark anniversaries that are important to him, expressed surprise that so many people seemed unwilling to believe that Putin would invade Ukraine in the first place. The Russian leader's pattern of behavior convinced her it was only a matter of time before he would order a military action bigger than his seizure of Crimea in 2014. "The fact that it was such a surprise—to everyone in the West and many people in Russia—that the war came was, for me, in itself a surprise," she said.
On February 20, 2023, three days before this panel discussion, President Biden made an unannounced visit to Kyiv, Ukraine's capital—his first since the war began. It was a clear message to the world about his commitment to supporting Ukraine's fight to maintain its territorial integrity. In a speech delivered the next day in Warsaw, Poland, Biden said Russian forces in Ukraine were committing "crimes against humanity without shame or compunction."
At some point during the discussion, Steinberg asked the panelists if the war crimes accusation was, in effect, closing the door to getting Putin to negotiate an end to the conflict or any serious discussion in this respect.
"I'm not sure it's an avoidable conversation," Applebaum said regarding reports of Russian war crimes. "I also think it's become pretty clear that this war will end when the Russians understand that it was a mistake, whatever that [understanding] looks like. As the French in Algeria understood that they couldn't win the war in Algeria and they no longer had an interest in being an imperial power; as the British once understood… that Ireland was a separate country and wasn't going to remain part of the United Kingdom. Some revelation like that has to come about in Moscow."