SAIS Europe Commencement 2023
May 20, 2023
On Saturday, May 20, SAIS Europe held its annual Commencement ceremony, a joyous occasion to celebrate all members of the SAIS Europe Class of 2023, including students who have just completed their year in Bologna, and most importantly, the 78 SAIS Europe degree candidates. Graduates from the MAGR, MAIA, MEPP, MIPP, MAIR, and Diploma programs were individually recognized as family, friends, and loved ones looked on, both in person and over Zoom.
For the first time in SAIS Europe's history, Commencement was held at the historic Aula Magna di Santa Lucia, a fifth-century cathedral in the heart of Bologna's city center that has since been renovated and restored by the University of Bologna as a prestige event space. We are extremely grateful to the UniBO leadership for allowing us to host our Commencement at such a magnificent and important venue.
We were honored to have Carl Bildt, Former Prime Minister, and Foreign Minister of Sweden, as our 2023 Commencement speaker. He spoke in hopeful terms about the world we are in now, in comparison to his youth: "We have opened up our economies, we opened up our societies, we opened up our world. And I would argue that the results have been spectacularly successful."
As is tradition, our Commencement ceremony is also the opportunity to honor several students and a SAIS Europe faculty member for their exemplary performance throughout the academic year. Michael G. Plummer, SAIS Europe Director and Eni Professor of International Economics, moderated the event and first presented Professor Arntraud, (Arna), Hartmann, Steven Muller Professor, with the Johns Hopkins Alumni Association Excellence in Teaching Award. As noted by Director Plummer, the students who nominated Professor Hartmann praised her dedication, her ability to stimulate and motivate students with challenging material, and her insights into development work based on her career as a hands-on development professional.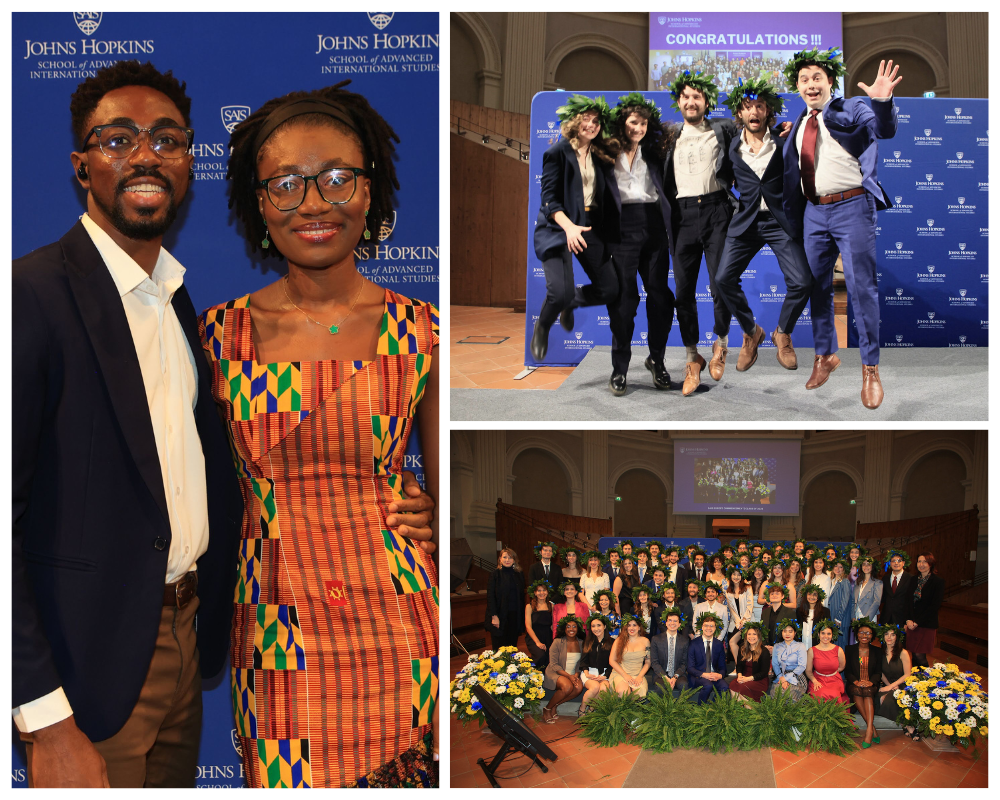 Students Irene Quadrelli, Jasmine McGhee, Michael Portillo and Camille Farradas were awarded the C. Grove Haines prizes by Professor Nina Hall, Assistant Professor of International Relations. The awards are named after C. Grove Haines, founder, and long-time Director of the Bologna Center, and commemorate Professor Haines's commitment to graduate-level education in international affairs. Professor Hall also recognized student Giorgia Renoldi as the winner of the Excellence in Gender Research prize, which recognizes the importance of researching the impact gender has on international affairs and policies.
Finally, Director Plummer recognized the members of this year's Student Government Association (SGA) Executive Board for the leadership they demonstrated throughout the academic year. SGA President Sean Wissing delivered the 2023 Student Commencement address and reflected upon his experience at SAIS.
Director Plummer concluded the event with a moving speech to the newly minted-alumni. "When SAIS Europe was founded 68 years ago, the goal of Professor C. Grove Haines was to provide advanced training to students representing many nationalities, who would be taught by a top-notch international faculty and would learn from each other, sharing in unique experiences that would prepare them for careers as global leaders in international affairs. The Class of 2023 is exemplary in this regard; you have impressed your professors in the classroom, bonded outside the classroom, and have demonstrated a strong commitment to making the world a better place. I have every confidence that you will."
After the ceremony, graduates and their guests were welcomed to SAIS Europe Bologna Center for a Cocktail and Dinner Reception. Thanks to the generosity of newly graduated Sophia Deyden (MAIA) and her family, students and reception guests were also treated to a live performance of a Mariachi band, in celebration of the Deyden family's Mexican heritage.
Commencement Social Wall
Commencement Photo Album