In a Speech at SAIS, Japan's Prime Minister Highlights Major Policy Shift
January 13, 2023
After World War II ended in 1945, Japan adopted a pacifist defense and security policy, and steadfastly maintained it for more than 75 years. But in a major policy speech he delivered at Johns Hopkins SAIS on January 13, 2023, Japan's Prime Minister Fumio Kishida said the time had come for a seismic shift.
It was Kishida's first policy speech in Washington, DC since he took office in October 2021, and the first time in 40 years that a Japanese prime minister was visiting SAIS—following Prime Minister Yasuhiro Nakasone's commencement speech in 1983.
"The international community is at a historic turning point," Kishida said. "The free, open, and stable international order that we have dedicated ourselves to upholding is now in grave danger." He cited Russia's February 2022 invasion of Ukraine as one of the major events that fundamentally upset the global order.
"Russia's aggression against Ukraine has marked the complete end of the post-Cold War world," he added. "It has come to light that globalization and interdependence alone cannot serve as a guarantor for peace and development across the globe."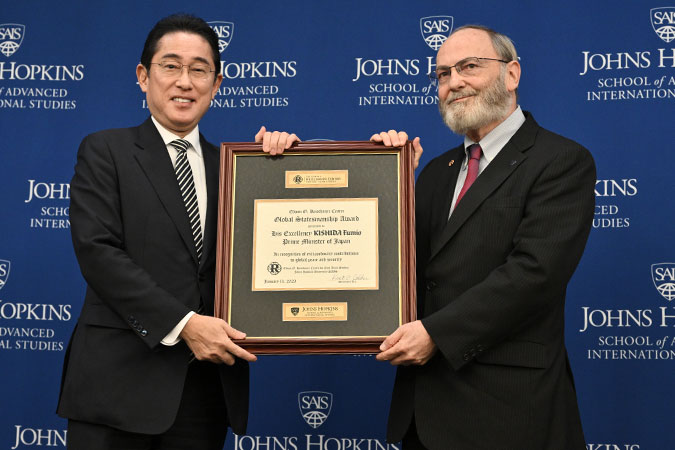 Kishida noted that Ukraine's sovereignty was not the only issue at stake in the Russia-Ukraine conflict. "If we let this unilateral change of the status quo by force go unchallenged, it will happen elsewhere in the world, including Asia," he said.
He stated that Japan was already seeing more aggressive behavior closer to home. "We are observing an increasingly clear trend in countries and regions around Japan: reinforcement of nuclear and missile capabilities, rapid acceleration of military buildups, and attempts to unilaterally change the status quo by force," he said.
Kishida did not hesitate to specify which countries he was referring to: China and North Korea. He described the relationship with China as the most central challenge for both Japan and the United States. "It is absolutely imperative for Japan, the United States, and Europe to stand united in managing our respective relationship with China," he emphasized.
As for North Korea, Kishida noted that Pyongyang has repeatedly violated UN Security Council resolutions, especially through ballistic missile launches that are unprecedented, both in their frequency and manner. "North Korea's nuclear and missile activities pose a clear and serious threat to international peace and stability," he said.
Kishida explained that these emerging challenges informed his decision to champion the modernization and enhancement of Japan's military capabilities—the country's biggest military buildup in more than 75 years, and a major departure from the pacifist policies enacted after World War II. "The partnership between Japan and the United States is indispensable in ensuring international peace and stability," he stated.
Kishida also expressed appreciation for Johns Hopkins SAIS and its 80-year tradition of academic excellence, and for the work of the school's Edwin O. Reischauer Center for East Asian Studies, established in 1984. The Reischauer Center supports research on trans-Pacific and inter-Asian relations while promoting mutual understanding between Northeast Asia, particularly Japan, and the United States.
Accompanying Prime Minister Kishida during the visit were Japan's Foreign Minister Yoshimasa Hayashi, National Security Advisor Takeo Akiba, and a delegation of 23 prominent Japanese politicians and senior advisors.
Dr. Kent Calder, director of the Reischauer Center, presented Prime Minister Kishida with an award from the Center in recognition of his contributions to global peace and security.
The full text of the English translation of the Prime Minister's speech can be found
here
.