Passion for policy-oriented research and European affairs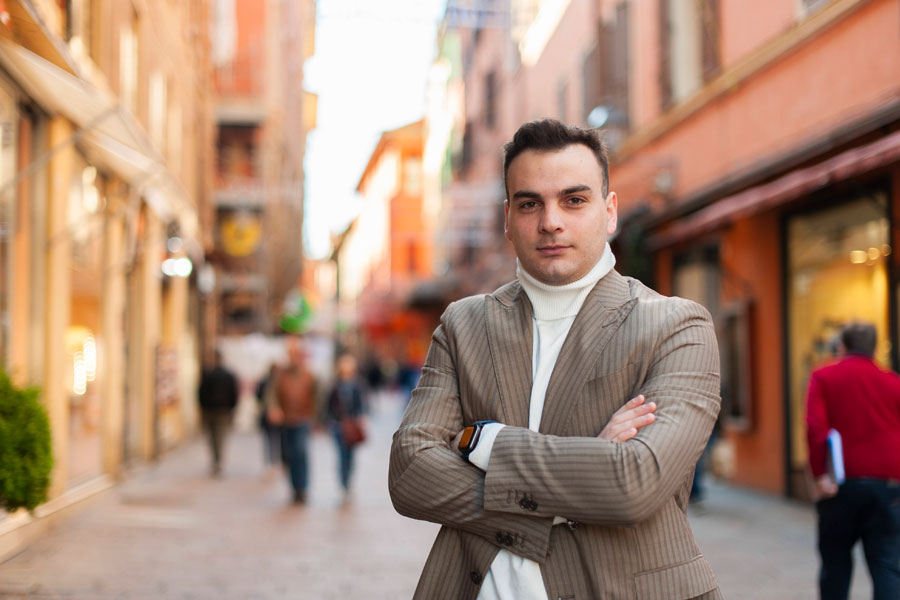 Andrea Leonard Palazzi, USA/Italy – MEPP '22
Master of Arts in European Public Policy

Andrea Leonard Palazzi graduated from the SAIS Europe-based Master of Arts in European Public Policy in May 2022. Here is his story and suggestions for future SAIS students.
What encouraged you to apply to Johns Hopkins SAIS and what were you doing before you came here? 
Before enrolling at Johns Hopkins, I studied International Affairs at John Cabot University ('21), an American university in Rome. Here, I discovered a passion for policy-oriented research and European affairs. Consequently, I started looking for master's programs in the realm of European public policy. Not only did Johns Hopkins SAIS Europe offer a master's in European Public Policy, but it also allowed me to continue my studies with an American-style education. Lastly, the prestige and network of the school, alongside its location, right a few hours away from my hometown, prompted me to apply.
 
What program were you in and what do you hope to gain from it?
I was enrolled in the Master of Arts in European Public Policy. The program offers a multidisciplinary approach towards European public policy, embracing the politics, economics, and history of the EU and of the European integration process. I now graduate with a thorough understanding of the functioning of the EU and European economic governance. At present, many politicians and demagogs are oblivious to the inherent benefits of the European integration process and consequently portray the EU as an obstacle rather than an added value to people's lives. I aspire to change this distorted view by discovering the full potential of European public policies.
 
Tell us about one of your favorite experiences from your year at SAIS Europe.
During the last year, I have had the opportunity to work for the school whilst pursuing my Master's. I was employed as a Student Life Assistant, Teaching Assistant of International Economics, and Assistant to Professor Sir. Michael Leigh. I will always cherish these moments because they gave me the opportunity to forge solid professional and personal ties with my fellow classmates, discover my passion for International Political Economy, and find first-class mentors in the Professors that I assisted.
 
What comes next after SAIS?
After graduation, I moved to Pretoria and joined the South African Reserve Bank (SARB) as a Graduate Research Fellow for the summer. At the SARB, I was conducting qualitative and quantitative research on South Africa's inflation dynamics.   Now, in the fall of 2022, I am joining one of the top think tanks in the United States, the Center for Strategic and International Studies (CSIS), in Washington DC. As part of the Scholl Chair in International Business program, I will be assisting and conducting research on international trade topics, including digital trade, climate change and trade, global supply chains, and global economic governance.
 
What advice would you give to future SAIS students? 
My advice for future students would be to fully take advantage of the school resources. Whether you are an English native speaker or not, the writing center will teach you how to write in a cogent, academic, and coherent manner; this will make you stand out in your academic courses at SAIS and before your future employers. Secondly, the language department is a valuable asset for your future career. Before SAIS, my knowledge of French was barely sufficient to introduce myself; after one year, I can now hold a full conversation in French! Thirdly, you ought to connect with SAIS's outstanding faculty and scholars: attend academic panels, office hours, and networking events. I am sure your professors will always be there for you, during and after SAIS, for any academic advice you might need.
 
What career pathways do you see for yourself following your studies at SAIS?
I would like to pursue a career in sustainable development/political economy at international macro-financial institutions like the International Monetary Fund and the World Bank, at EU delegations abroad, or in private consulting. At SAIS, I realized the vast array of opportunities that the world holds for students of International Relations. Enacting my knowledge of Political Economy to improve people's lives in the developing world now motivates me to further my studies, preferably at the post-graduate level and outside of Europe. In this regard, I am sure that my knowledge of the European Union, one of the largest providers of economic aid worldwide, will prove extremely useful.
 
Do you have anything to add about your experience at SAIS?
Allow me to answer this question by quoting a passage from a LinkedIn post I wrote after my graduation: "[At SAIS] I felt small: so small compared to highly-experienced classmates with years of expertise in conflict resolution in the Middle East, corporate finance in Wall Street, strategic defense in the U.S Military, or humanitarian development in the Peace Corps. I am grateful for this: "If you are the smartest person in the room, you are in the wrong room."

---
Enjoyed reading Andrea's experience? Learn more about our Master of Arts in European Public Policy.

Back to Student Stories