The World Can Be Better, But it Will Take Work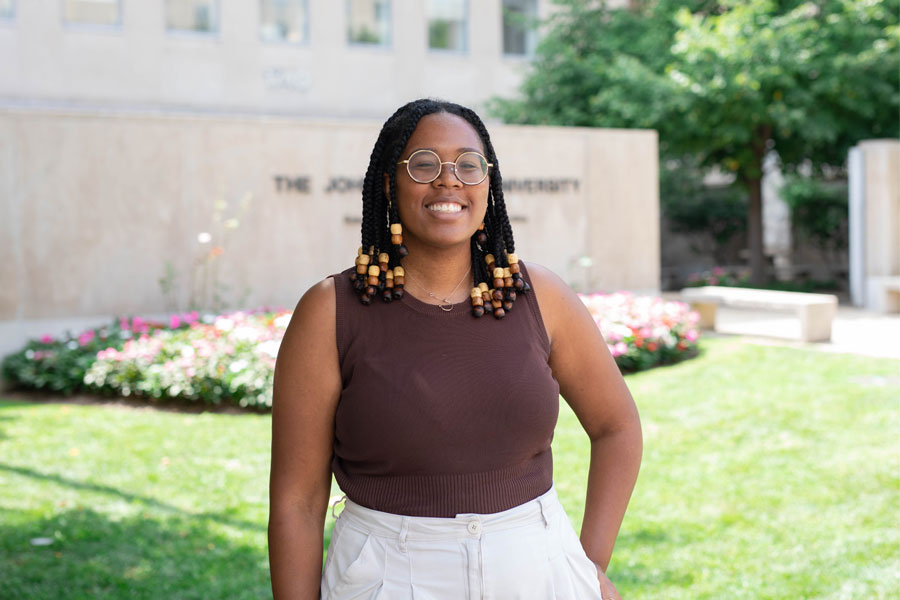 Joy Woods
Public Service Fellow, Master of Arts in International Relations
What made you choose SAIS?
I chose SAIS because of the people, and not just the distinguished faculty and staff. Every SAIS student I had the privilege of meeting before I applied was incredibly kind, academically dynamic, and supportive. I instantly knew was the kind of program I wanted to be a part of.
I truly believe that the world can be better than it is now, but that it will take work, and I'm not afraid to do it.
Why is public service important?
I truly believe that the world can be better than it is now, but that it will take work, and I'm not afraid to do it. I love the work, I love how important it is, and I love that I can point to where and how I made a difference.
What has the Public Service Fellows & Scholars program meant for you, personally?
The Public Service Fellows and Scholars program convinced me that SAIS was the place I wanted to be. Meeting with a group of people who are also dedicated to public service, and advisors that are supportive of that goal has been something of a first for me, and I've found it incredibly encouraging. The program also gave me the opportunity to meet Dean Steinberg personally during orientation, which completely surprised me!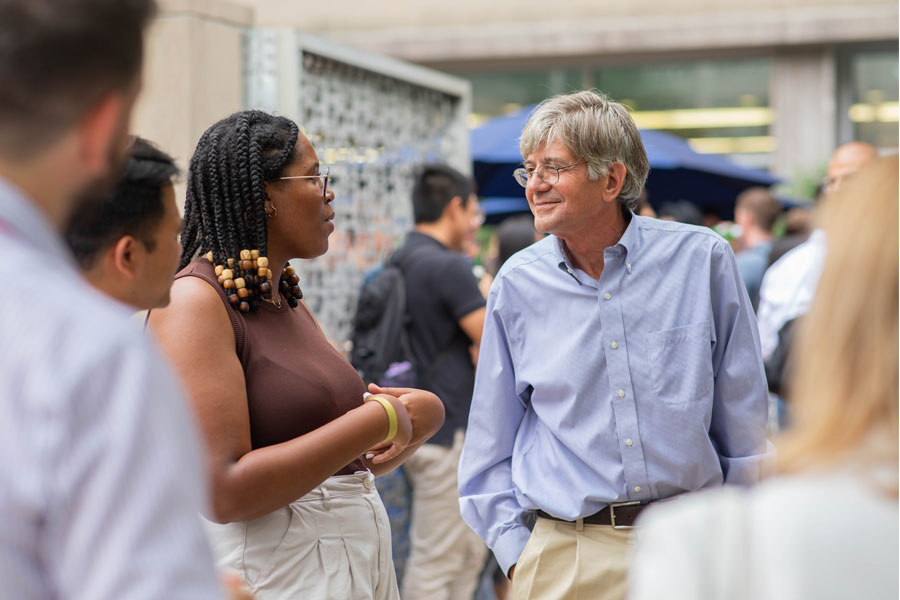 Public Service Fellow Joy Woods talks with SAIS Dean James B. Steinberg during student orientation.
Who has inspired and supported you in your academic journey?
It is impossible to choose just one person because so many have inspired and supported me through this amazing journey. My parents, who allowed me to explore the world at my own pace, and worked with me to find subjects I was interested in. A community member who has since passed away, Mr. John Serrano who used to always call me "Ms. International," was one of the first people outside of my family to say I would make it out of the country and encouraged me to consider public service. And finally, the Political Science department at UNCG, specifically Department Head Dr. Gregory McAvoy, who gave me the opportunity to do research and encouraged me to apply to SAIS. There's been so many more, and I am eternally grateful for everyone in my community.
---
Are you a highly talented graduate student pursuing the MAIR or an experienced mid-career professional pursuing the MIPP? Are you committed to strengthening your community or to pursuing a career shaping public policy?
Apply and learn more about SAIS' Public Service Scholarships here »
Back to Student Stories