Summer Academy | Washington DC
June 10-July 5, 2024
Gain valuable, hands-on experience focusing on national security and foreign affairs in the heart of the US policymaking community. Rising sophomores, upperclassmen, and recent college graduates earn four graduate-level credits studying with SAIS' world-class faculty at the Johns Hopkins Bloomberg Center on Pennsylvania Avenue.
Curriculum
Learn about contemporary international security challenges, intelligence tools and tradecraft, and the shaping of national security policies. The Summer Academy introduces students to strategic thinking and the challenges of crafting strategies through seminars, simulations, guest speakers, role-playing exercises, and site visits to make the most of what Washington DC has to offer.

Program highlights include:
Learn about instruments of statecraft and contemporary security challenges, and how intelligence informs policymakers.
Site visits to some of the most important locations in US national security and intelligence such as the Department of State, US Congress, intelligence agencies, and private organizations.
Case studies, games, and simulations designed to develop a sense for the demands of the national security and intelligence fields.
Earn four graduate credits from Johns Hopkins SAIS that can transfer to many of the school's degree programs. 
The SAIS Washington Summer Academy courses on national security policy, Intelligence, and cybersecurity are designed to provide students with a deep understanding of the key concepts, principles, and practices that underpin the formulation and execution of national security strategies. It particularly focuses on the critical role of intelligence, technology, and cybersecurity in safeguarding a nation's interests. In an ever-evolving global landscape, where security challenges are diverse and dynamic, this course equips students with the knowledge and analytical skills necessary to contribute to effective national security policy and intelligence efforts in the digital age. More detailed course descriptions will be posted later this fall.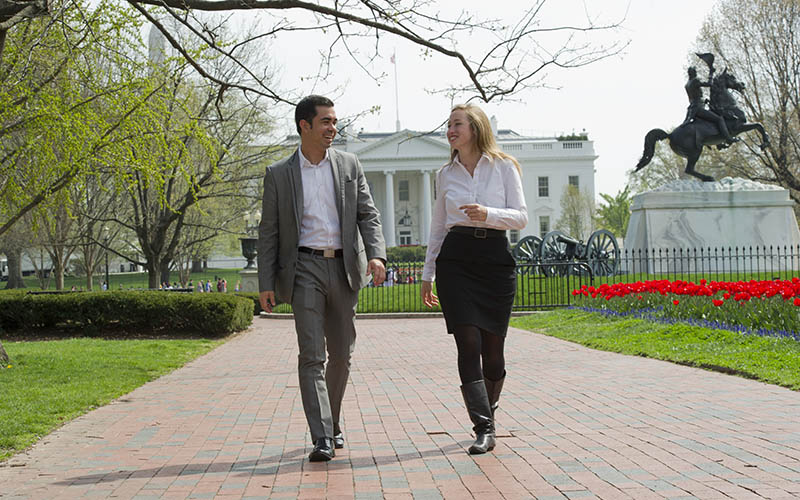 Studying in Washington DC
From the halls of Congress to the headquarters of U.S. diplomacy in Foggy Bottom, the nation's capital is an excellent backdrop for the study of international affairs. Not only will you hear directly from top voices of the policy community and learn directly from leading scholars of the field, you will add Washington DC experience to your resumé for an advantage in future internship and employment searches. In addition, you will enjoy visiting world-class museums, catching a World-Series-winning Nationals baseball game, and dipping into the local culinary scene.
Students apply through Johns Hopkins SAIS Summer Programs.

Applications will open October 30 and decisions will be rendered on a rolling basis.

APPLICATION REQUIREMENTS:

Undergraduate transcript
Resumé
Personal statement
Two academic references
No application fee
Students will stay at NYU's Washington, DC campus located a few blocks from SAIS.  Each residential floor contains mostly 4-person, 2-bedroom, 1-bathroom apartments and a student lounge.  Students also have access to a game room, resource center, laundry room, serenity space, and ample multipurpose space.  A full-time Residential Life Coordinator and part-time Residential Life Administrators reside in NYU Washington, DC to provide advice, guidance, support, programming, and activities.
Rising sophomores (students who will have completed one year of college by summer 2024) and upperclassmen may apply with a minimum 3.0 GPA. The program is also open to recent college graduates who have completed their undergraduate degree within the past two years. High-performing undergraduates from any discipline are encouraged to apply.

Students who successfully complete the Summer Academy courses will earn up to four graduate credits from Johns Hopkins SAIS. These credits can be transferred back to your home institution. Credits will also transfer to most Johns Hopkins SAIS degree programs.

4 CREDITS/4-WEEK PROGRAM
| 2023 Direct Costs (Subject to change) |   |
| --- | --- |
| Tuition (4 credits) | $4,500 |
| Program Fee | $1,500 |
| Housing | $1,900 |
| Total Direct Costs | $7,900 |
| Indirect Costs |   |
| --- | --- |
| Board | $500 |
| Books & Supplies | Included |
| Travel | $400 |
| Personal Expenses | $375 |
| Total Indirect Costs | $1,275 |
Admitted Summer Academy students
from all undergraduate institutions are eligible to apply for scholarship funding through Johns Hopkins SAIS. Further information will be available in coming weeks.
Opportunities for C

urrent JHU Students 
Study Abroad Scholarship

- Current Johns Hopkins University undergraduate students are eligible to apply for a

Study Abroad scholarship

for up to $5,000

to attend the SAIS Academy in Washington, DC. The deadline to apply is March 2, 2024. Contact

[email protected]

with questions.
Aronson International Experience Grant- Current Johns Hopkins University undergraduate students majoring in International Studies are eligible to apply for

an

Aronson Grant

for

up to $2,500. The deadline to apply is April 1, 2024. Contact

[email protected]

with questions.
Contact Us
Contact Johns Hopkins SAIS Summer and Non-Degree Programs at [email protected].