Summer Academy | Washington DC
The Washington DC Summer Academy will launch in Summer 2022.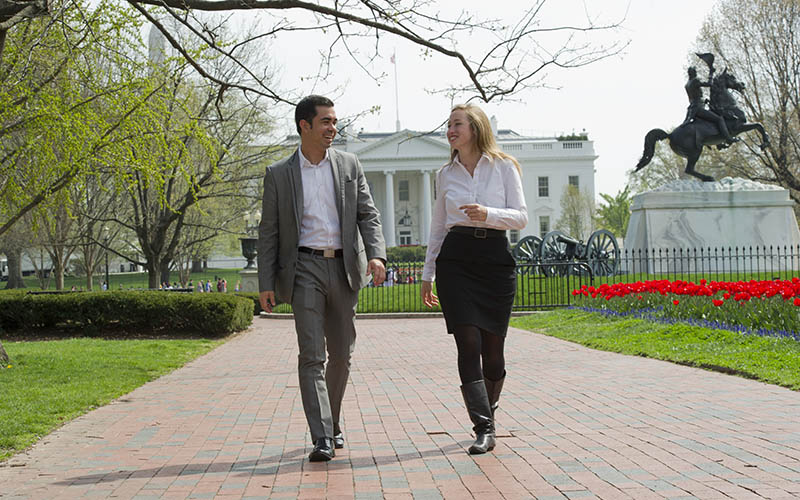 Gain valuable, hands-on experience focusing on national security and foreign affairs in the heart of the US policymaking community. Rising sophomores, upperclassmen, and recent college graduates earn four graduate-level credits studying with Johns Hopkins SAIS' world-class faculty at our Dupont Circle campus on Embassy Row.
Curriculum
Learn about national security, contemporary security challenges, cybersecurity, and nuclear weapons proliferation through a course on The Essentials of Statecraft, Strategy, and US National Security.

The Summer Academy integrates seminars, simulations, exercises, site visits, and film to make the most of what Washington DC has to offer.  

Program highlights include:
Learn about contemporary security challenges arising from great power competition, nuclear weapons proliferation, cybersecurity, pandemic disease, and climate change.
Site visits to some of the most important locations in US national security such as the Department of State, CIA headquarters, and US Congress.
Two day-long excursions beyond Washington that drop you into pivotal moments in American history that reverberate for today's national security leaders.
A day-long exercise in statecraft where you become members of the National Security Council and test your diplomatic and strategic acumen to resolve a nuclear standoff.
Multiple games and mini-simulations designed to develop a sense for the demands of the national security field.
Studying in Washington DC
From the halls of Congress to the headquarters of U.S. diplomacy in Foggy Bottom, the nation's capital is an excellent backdrop for the study of international affairs. Not only will you hear directly from top voices of the policy community and learn directly from leading scholars of the field, you will add Washington DC experience to your resumé for an advantage in future internship and employment searches. In addition, you will enjoy visiting world-class museums, catching a World-Series-winning Nationals baseball game, and dipping into the local culinary scene.

Undergraduate sophomores, juniors, and seniors may apply. The program is also open to recent college graduates who have completed their undergraduate degree within the past two years.

Students who successfully complete the Summer Academy course(s) will earn up to four graduate credits from Johns Hopkins SAIS. These credits can be transferred back to your home institution. Credits will also transfer to most Johns Hopkins SAIS degree programs.