Summer Academy | Washington DC
June 21-July 16, 2021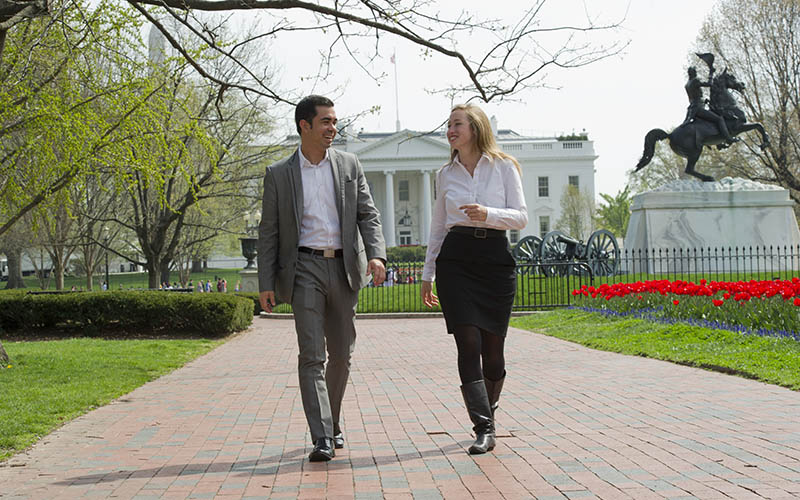 Gain valuable, hands-on experience focusing on national security and foreign affairs in the heart of the US policymaking community. Rising sophomores, upperclassmen, and recent college graduates earn four graduate-level credits studying with Johns Hopkins SAIS' world-class faculty at our Dupont Circle campus on Embassy Row.
Curriculum
Learn about national security, contemporary security challenges, cybersecurity, and nuclear weapons proliferation through a course on The Essentials of Statecraft, Strategy, and US National Security.

The Summer Academy integrates seminars, simulations, exercises, site visits, and film to make the most of what Washington DC has to offer.  

Program highlights include:
Learn about contemporary security challenges arising from great power competition, nuclear weapons proliferation, cybersecurity, pandemic disease, and climate change.
Site visits to some of the most important locations in US national security such as the Department of State, CIA headquarters, and US Congress.
Two day-long excursions beyond Washington that drop you into pivotal moments in American history that reverberate for today's national security leaders.
A day-long exercise in statecraft where you become members of the National Security Council and test your diplomatic and strategic acumen to resolve a nuclear standoff.
Multiple games and mini-simulations designed to develop a sense for the demands of the national security field.
Course Offerings
Bradley Potter

How do policymakers understand threats to U.S. national security? What instruments of statecraft are available to address these threats? How are these instruments used effectively as part of a broader national security strategy? What challenges are likely to headline national security in the 21st century?

Current and future foreign policy practitioners grapple with these issues on a regular basis. In exploring these enduring questions, this graduate-level course engages with three broad themes: (1) the philosophical and practical roots of US national security; (2) the art of strategic thinking; and (3) the challenge and promise of integrating tools of statecraft to realize national security. A novel combination of seminars, simulations, exercises, site visits, and film will guide students as they explore these equally timeless and pressing themes. Additionally, students will consider how their academic training prepares them for careers in national security.
 
The overarching goals of this intensive, four-week program are twofold. First, it aims to empower talented undergraduates with the skills necessary to become sophisticated consumers and analysts of national security scholarship and policy. Second, it strives to prepare students for bending their academic training toward informing effective, sustainable US national security policy. Suitable for high-performing undergraduates from any discipline, the Johns Hopkins SAIS Summer Academy is an opportunity to engage some of the most consequential issues facing the United States alongside leading faculty and practitioners in the heart of Washington DC.

Studying in Washington DC
From the halls of Congress to the headquarters of U.S. diplomacy in Foggy Bottom, the nation's capital is an excellent backdrop for the study of international affairs. Not only will you hear directly from top voices of the policy community and learn directly from leading scholars of the field, you will add Washington DC experience to your resumé for an advantage in future internship and employment searches. In addition, you will enjoy visiting world-class museums, catching a World-Series-winning Nationals baseball game, and dipping into the local culinary scene.

JHU students apply through the university's Office of Study Abroad. 

Non-JHU students apply through Johns Hopkins SAIS Summer Programs as non-degree students. 

Applications will open in winter. Deadline to apply: April 15, 2021
Application Requirements:
Undergraduate transcript
Resumé
Personal statement
Two academic references
Application fee: $50
Application Instructions: 
In the online application under Program of Study section, please select the following:
Applying for Direct Admission: No
Degree Type: Non-Degree
Program: SAIS Summer Academy
Students will stay in shared two bedroom suites in a residence hall within walking distance to Johns Hopkins SAIS. The residence hall has kitchenettes, student lounges on each floor, on-site laundry facilities, a fitness center, computer lab and a recreation station with games and sporting equipment.

Undergraduate sophomores, juniors, and seniors may apply. The program is also open to recent college graduates who have completed their undergraduate degree within the past two years.

Students who successfully complete the Summer Academy course(s) will earn up to four graduate credits from Johns Hopkins SAIS. These credits can be transferred back to your home institution. Credits will also transfer to most Johns Hopkins SAIS degree programs. 
Cost of Attendance 
Non-JHU students applying for financial aid will need to request aid through their home institutions. Check with your school to request a consortium agreement. The Johns Hopkins SAIS Financial Aid Office can work with your school to help complete the consortium agreement, if necessary. They can be contacted at saisfinaidinfo@jhu.edu.

Summer 2021 cost of attendance has not yet been finalized. As soon as it is confirmed, the website will be updated.
2020 Direct Costs
Tuition (4 credits)
$4,400
Program Fee
$1,675
Housing
$1,625
Total Direct Costs
$7,700
2020 Indirect Costs
Board
$500
Books & Supplies
$100
Personal Expenses
$375
Travel Allowance
$400
Total Indirect Costs
$1,375
Non-JHU students will be required to show proof of insurance by a U.S. provider. 

Learn More
Contact Johns Hopkins SAIS Summer and Non-Degree Programs at sais.summer@jhu.edu or +1 (202) 663-5671 to speak with an advisor for more details about the Washington DC Summer Academy and application requirements. JHU undergraduates may also visit the Office of Study Abroad on the Homewood campus at Levering Hall, Suite 04B.