Summer Academy | SAIS Europe
June 1-July 2, 2023
Spend four weeks of your summer exploring international affairs in the heart of Europe. Rising sophomores, upperclassmen, and recent college graduates earn four graduate-level credits studying with Johns Hopkins SAIS' world-class faculty in Bologna, Italy.
Curriculum

Learn about international conflict management and resolution. Courses feature classroom lectures in the mornings and site visits or guest speakers in the afternoons. Various excursions will take you to top destinations in the region for cultural experiences outside the classroom.
Program highlights include:
Examine conflict analysis and causes of civil wars.
Debate on international interventions.
Address peacekeeping and peacebuilding through case studies.
Proposed excursions to Sicily, Florence, and Milan.
The (Geo)Politics of Organized Crime 
Instructor: Francesco Strazzari 
Course Description: The course gives students a comprehensive understanding of contemporary patterns and characteristics of transnational organized crime, illicit markets and trafficking activities.

Students will be introduced to a complex phenomenon by engaging with empirical evidence and by demystifying common perceptions of mafias and criminal under- and over- world. The course rests on the assumption that what most people know about criminal organizations comes from stereotypical representations in popular culture – films and literature. The analysis of real-world data, such as investigations, proceedings, crime statistics and economic/social science research findings dispels many of the accepted myths.

We will use concepts from organizational studies (e.g., hierarchies and networks), the analysis of business and political economy ("the firm" and markets), political sociology (e.g., in-group cohesion, trust and symbolic power) and IR/political science (e.g., borders, sovereignty, globalization). We will also look closely into efforts by government and law enforcement agencies to respond transnational organized crime across jurisdictional or national borders in several sectors of activity and geopolitical contexts.

Students will be invited to work on specific cases, to critically engage and reflect on the nature and limitations of what we know and what we do to respond to main crime-related challenges in several international studies-related contexts that often are not addressed from this angle.


From War to Peace: Civil Wars and International Interventions
Instructor: Francesco N. Moro
Course Description: Why do countries experience civil wars? How can the international community act and try to prevent, or stop, such wars? The course revolves around these two basic but fundamental questions to understand international security nowadays. Civil wars have been a constant feature of the contemporary global security environment across different continents, and beginning with the end of the Cold War, there has a been a spike in international activism through UN mandated peacekeeping and peacebuilding missions. This course addresses international interventions—peacekeeping and peacebuilding—as they evolved through the decades and assesses the factors that can explain success and failure of such activities. Case studies may focus on Bosnia, Colombia, Lebanon, the Sahel region and Syria.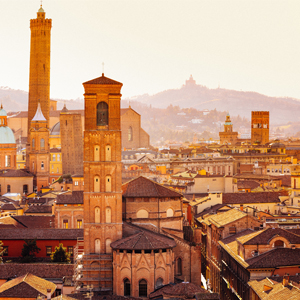 Studying in Bologna
Find out why SAIS Europe alumni recall their time on campus as the best year of their lives. Bologna, Italy consistently ranks in the top 10 European cities for quality of life. The campus' small scale and collegial atmosphere means that students eat lunch with their professors, debate issues in seminar-style courses with classmates from around the globe, and build the foundations for lifelong friendships and professional networks.
Rising sophomores (students who will have completed one year of college by summer 2023) and upperclassmen may apply with a minimum 3.0 GPA. The program is also open to recent college graduates who have completed their undergraduate degree within the past two years. High-performing undergraduates from any discipline are encouraged to apply.
Students apply through Johns Hopkins SAIS Summer Programs.

Applications will open December 1 and decisions will be rendered on a rolling basis. Extended Deadline: Applications will be accepted through March 17, 2023.

Application Requirements:

Undergraduate transcript
Resumé
Personal statement
Two academic references
No application fee
Students who successfully complete the Summer Academy courses will earn up to four graduate credits from Johns Hopkins SAIS. These credits can be transferred back to your home institution. Credits will also transfer to most Johns Hopkins SAIS degree programs.

As a four-week program, the SAIS Europe Summer Academy does not require a student visa. Students who are citizens or permanent residents of nations within the European Union do not need a visa to visit Italy. Citizens and permanent residents of nations outside the European Union, including the United States, can attend the program on a tourist visa. Johns Hopkins SAIS and the Office of Study Abroad will assist you in obtaining visas and necessary documentation.
Students will stay in shared apartments in the heart of Bologna's historic center within walking distance to campus. Apartments will include a kitchenette, on-site laundry facilities, high-speed wireless internet, and weekly cleaning services.
4 CREDITS/4-WEEK PROGRAM

| 2023 Direct Costs |   |
| --- | --- |
| Tuition (4 credits) | $4,500 |
| Program Fee | $1,500 |
| Housing | $1,900 |
| Total Direct Costs | $7,900 |
*Travel insurance is required for all non-JHU students who are non-European citizens and is automatically billed.

| 2023 Indirect Costs |   |
| --- | --- |
| Board | $500 |
| Books & Supplies | Included |
| Travel | $400 |
| Personal Expenses | $375 |
| Total Indirect Costs | $1,275 |
Propel Summer Scholars Program
Admitted Summer Academy students are eligible to apply for scholarship funding through the Propel Summer Scholars program. The program is designed to bring a diverse student population to the Summer Academy and expand the interest in the field of international relations. Both Hopkins and non-Hopkins students are eligible.

If interested in applying, students will first need to be admitted to the SAIS Summer Academy. Admitted students will have until March 20 to submit the Propel Summer Scholar application, which includes an essay (250-300 words) describing how your background and experience will bring a diverse perspective to the Summer Academy program along with demonstrated financial need. A limited number of students will be selected as Propel Summer Scholars in 2023 with all direct costs of the Summer Academy covered including tuition, program fee, and housing in Washington, DC or Bologna, Italy. Additionally, international airfare to Bologna (up to $1,300 will be included for a student attending the SAIS Europe Summer Academy). Additional partial scholarships may be available.

Opportunities for Current JHU Students
Study Abroad Scholarship - Current Johns Hopkins University undergraduate students are eligible to apply for a Study Abroad scholarship for up to $5,000 to attend the SAIS Academy in Bologna, Italy. The deadline to apply is March 2, 2023. Contact

[email protected]

with questions.
Aronson International Experience Grant- Current Johns Hopkins University undergraduate students majoring in International Studies are eligible to apply for an Aronson Grant for up to $2,500. The deadline to apply is April 1, 2023. Contact

[email protected]

with questions.
Learn More
Contact Us
Contact Johns Hopkins SAIS Summer and Non-Degree Programs at
[email protected]
.