Student Activities
Through extracurricular activities such as alumni networking events, informal dinners, happy hours, and special programs, you will form lasting professional and social networks.
Student Government Association
We want to ensure that every student has a voice in their personal and educational experience. For this reason, students elect a group of their peers to serve on the Student Government Association.
The Washington DC-based SGA acts as a conduit to the school's administration and also implements annual programming. It is comprised of ten officers: President, Vice President, Programming Chair, Treasurer, SAIS Europe Representative, Hopkins-Nanjing Center Representative, MIPP Representative, MIEF Representative, as well as two first year MAIR Representatives.
Early in the academic year, students are invited to run for election to the five-member Student Government Association. The SGA serves as the liaison between the student body and administration, offering ideas for programming at SAIS Europe and choosing selected guest speakers for the faculty research seminar series, and managing a grant program to support clubs, class trips, study treks, and internships. At the end of the year, a SAIS Europe representative in the two-year MAIR program is elected to serve on the SGA in Washington DC the following academic year.
The student committee, known as the banwei, is elected each semester with two international and two Chinese student representatives. The banwei meets with the school's co-directors on a regular basis and plans student events throughout the year.
Signature Events
Being a part of the Johns Hopkins School of Advanced International Studies (SAIS) means expanding your network, making friends, and learning about other cultures. Whether you are in Washington DC, Bologna, or Nanjing you can be sure to find an exciting line up of programs and activities.

In addition to an annual Cherry Blossom Ball and Talent Show, students in Washington celebrate the diversity of the study body during the International Dinner where students showcase their culture through food, clothing, music, and dance.

In Europe, students host an annual Thanksgiving Dinner where American students share traditional Thanksgiving food and drink. Students are also invited to attend the Vienna Ball of Sciences which is always a highlight of their experience in Europe.

In China, one of the most popular events is the annual Halloween Party, which features elaborate and creative costumes.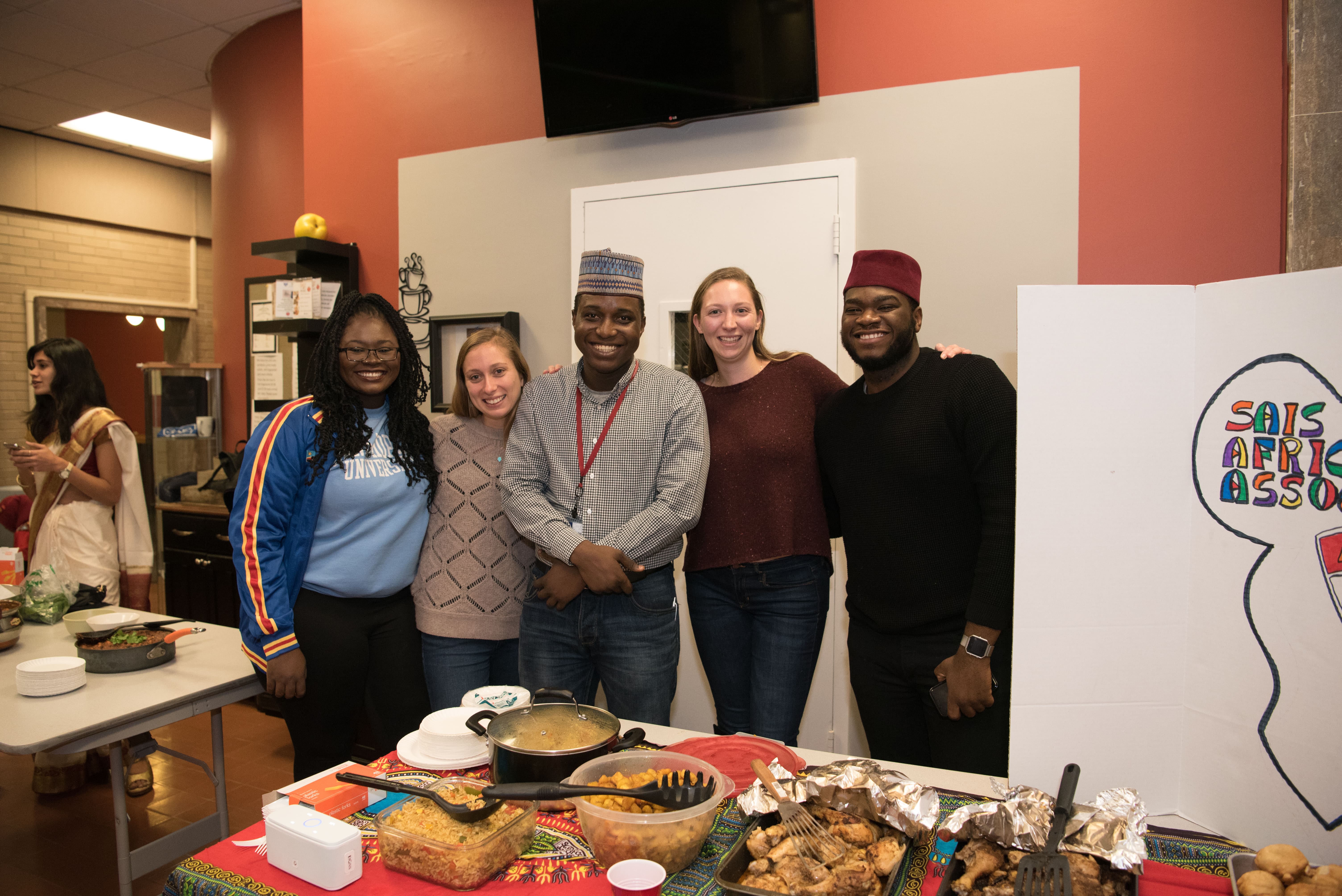 Student Organizations
One of the most exciting aspects of graduate school is expanding your network by meeting classmates with varied interests, career aspirations, and cultures. The school fosters a great sense of community by encouraging students to share their passions and talents with each other. Joining career-focused clubs, regional clubs, or activity-focused clubs is a great way to meet people, make new friends, and build your network.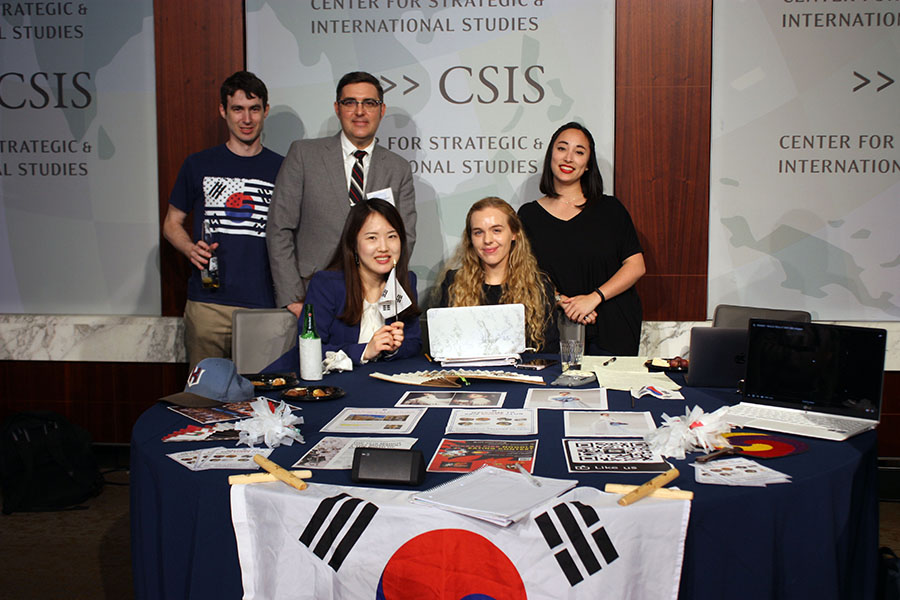 Career-Focused Clubs
Energetic student group with passions across international development sectors. Focuses on networking with alumni, specialists and world leaders. The club also sends exclusive job and internship postings and facilitates member-demanded events, while collaborating with other organizations to hold events across the school.
Aims to successfully posture students for diplomacy-related careers by providing forums to connect with alumni, specialists, and leaders in the field. The club facilitates member demanded events and sends periodic newsletters to keep students abreast of relevant job and internship opportunities.
Provides information and career advice for students interested in various consulting fields, from management consulting to political risk. The club organizes career treks and hosts events in which practitioners speak about their experiences in the field.
Hosts events that will help connect students with former or current practitioners in the defense and intelligence communities. This club is for students curious about or interested in pursuing a career in defense or intelligence.
Engages the school community by organizing career panels, lectures with distinguished speakers, roundtable discussions with alumni, and career-centered site visits. The club also develops ties between key energy and environment sector employers through outreach to alumni and marketing the degree's unique combination of energy, economics and public policy.
Provides a platform for students to enhance their technical skills, network with other professionals, and facilitate meetings with potential employers in the field of global security and conflict management.
Aims to equip leaders with the tools necessary to excel professionally and tackle challenges facing women globally. Sponsors a bimonthly luncheon series; hosts seminars, workshops, and networking events; and organizes the annual SAIS Global Women in Leadership Conference, a forum for young professionals preparing to launch successful careers in an increasingly globalized world, and to address the issues facing women around the world. 
Helps students explore and pursue careers in international finance through regular seminars and training sessions that provide students with technical skills and knowledge. Also organizes mock interviews, internship panels, and lectures.
Provides the network and resources to inspire students to build successful "impact careers" by working in jobs dedicated to change or by bringing a social and environmental lens to traditional business roles. Organizes events with leading practitioners on themes such as Impact Investment, Micro and SME finance, Corporate Social Responsibility, SME Development, and Base-of-the-Pyramid business strategies.
The Technology Career Club provides future policymakers with the tools they need to apply their geopolitical understanding to a world shaped by rapid technological advancements.
Regional-Interest Clubs
Dedicated to enriching the cultural and academic life of the student body by promoting issues concerning Africa and the African Diaspora. Organizes educational, professional, and social activities to foster understanding and dialogue between students who identify with, and are interested in, the diverse cultures and experiences of the African Diaspora.
The club aims to inform students about the Caucasus and Central Asia region, explore its challenges together, provide a space for discussion, and familiarize students with the widely diverse culture of the region by hosting academic, social, and cultural events.

You can also find us on Instagram, and on Whatsapp.
Organizes social, cultural, and academic activities related to China to provide opportunities for students to learn about and understand China from a perspective outside that provided in the classroom. Open to all students, which allows interested students to network across concentrations. Events include the school-wide ping pong tournament, New Year potluck, and karaoke trips, among others.
The East Asia Club (EAC) provides students with opportunities to explore various facets of East Asia, including cultures, politics, and economics. EAC hosts events, happy hours, movie nights, and academic panel discussions throughout the academic year. EAC has worked with Sasakawa Peace Foundation USA, the Reischauer Center for East Asian Studies, and many other scholars who specialized in the region. The club also collaborates with peer student clubs at Georgetown University and George Washington University.
Brings together the school in promoting and understanding Indonesian food, culture, diversity, and more. Organizes education, professional, and social activities that help to educate others on specific Indonesian issues relating to politics, economy, trade, development, environment, conflict, diversity, and more. 
Brings together students with an interest in any aspect of Japan, including food, entertainment, culture, politics and foreign affairs. Plans activities like happy hours, movie screenings, language tables, alumni networking, and more. All are encouraged to join, regardless of concentration or experience.
Brings together those interested in Korea, from Korea, or thinking about working in Korea, to learn about and celebrate Korean language, culture, food, and current events. Coordinates with Korea Studies to host speakers, lunches, dinners, and a weekly Korean language table.
Focuses on bringing together students that are interested in better understanding the region through cultural activities such as salsa dancing, Spanish and Portuguese happy hours, and cooking. You do not need to be a Latin American Studies concentrator to join!
Creates a space for students to learn about current events in the Middle East and North Africa by holding panels with distinguished practitioners and scholars on a wide range of subjects and by hosting networking events for students interested in careers relevant to the region.
Brings together students interested in the region for film viewings, delicious authentic food, and plenty of casual discussion. Explores the sensitivities of the region's history and culture. The group is open to everyone, not only those in Russian and Eurasian Area Studies.
South Asia Students Association (formerly known as Chai Club) is for those interested in South Asia. The association aims to connect those with and without South Asian descent, to come together and learn more about the region.
Organizes cultural and academic opportunities for students interested in Southeast Asia to engage with key issues in the region. Hosts a weekly lunch seminar with regional experts.
Draws members from across the student body that endeavors to raise the profile of Thailand and its culture by organizing events to expose the student body to Thailand's unique identity. Activities include a lecture series, movie nights, Thai cooking, and trivia.
Special-Interest Clubs
Part of the AHS national organization, which is an independent, non-partisan, not-for-profit organization dedicated to promoting constructive debate on basic principles and contemporary issues in foreign, economic, and national security policy. AHS is a membership organization—not a think tank or an advocacy group—that sponsors debates at colleges and universities, as well as in major cities, and provides other opportunities for our members to flourish intellectually, professionally, and personally.
Strives to create an environment where students can freely express their beliefs and to provide a sense of community and support. Students come from many different denominations. Hosts a weekly Bible study, as well as other events throughout the semester. Also connected to Washington DC's graduate Intervarsity fellowship network.
Promotes the study and practice of international law, and awareness and debate of international law issues.
 
Serves as a resource for LGBTI students at the school and their allies. Supports LGBTI students by providing a social forum and holding events related to professional and personal life in international affairs as a gay person.
Supports students who are military veterans, active duty military, or simply interested in learning more about the military community. Focuses on building cohesion amongst military members and the school's community through volunteer service and outreach.
Joins together an assortment of novice, intermediate and advanced international soccer players on both the Washington DC and SAIS Europe campuses. The DC team "Fire and SAIS" is in District Sports Division 1 coed league.
Facilitating a more aware, representative, and open community. We are an initiative borne out of the desire to harness the community's rich diversity and the collective capital of its affinity student groups to foster dialogue on current events and topics, celebrate different experiences, and advocate to administration on student perspectives as it relates to issues of diversity and inclusion.
The club trains students in geographical information systems through skills development and real-world application in projects that aid humanitarian mapping needs.
Working on Campus
On campus employment offers students the opportunity to work with expert faculty, obtain transferable skills, and ease financial burdens.
Johns Hopkins SAIS students enrolled in full-time, degree programs are eligible to work in various roles across campus through the student employment program. Students often find on campus employment opportunities working as research assistants, as administrators, or in the library. 
Students who wish to work while enrolled at SAIS Europe can apply administrative positions in the Library and other offices, as research and teaching assistants, or as student assistants for the Bologna Institute for Policy Research. Students can work up to a maximum of 60 hours per month, but on average should expect to work less. Positions are posted in advance of pre-term and students can apply upon arrival to campus.
Students who wish to work while at the Hopkins-Nanjing Center can apply for federal work study positions in the writing center or for remote work for the Washington DC-based HNC admissions team. Occasionally, faculty hire students to work as research assistants. Students can work up to a maximum of 20 hours per week.