First-Ever SAIS Online Master's Cohorts Set to Graduate
May 24, 2022
24 Global Risk, Sustainable Energy students will be part of May 25 Commencement
The West Coast students would be eating breakfast, while those on the East Coast were having lunch. Their European classmates joined them over dinner.
 
That was a typical Zoom session for the students in the Online Master of Arts in Global Risk (MAGR) program.
 
Now they'll be able to share the same meal, in person. On May 25 in Washington, D.C., 24 students from MAGR and the Master of Arts in Sustainable Energy (MASE) will become the first graduates of the Johns Hopkins University School of Advanced International Studies (SAIS) first-ever online programs.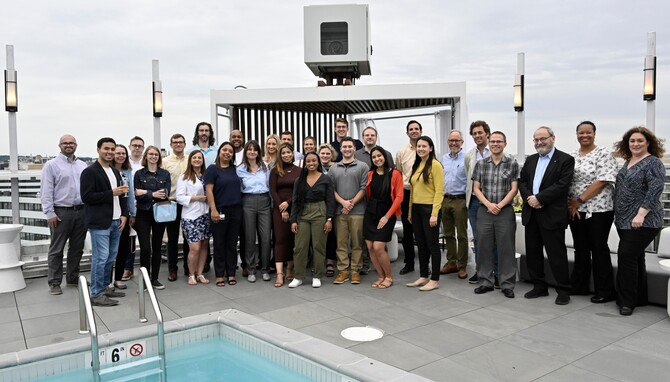 Poolside with the first-ever online MASE and MAGR graduates, SAIS faculty and ODL staff

The graduation is two years in the making for the students, but even longer for SAIS staff and faculty. Dr. Pratima Enfield, Executive Director of the SAIS Online & Distance Learning Office, said work on these programs started in 2018, two years before the first cohort enrolled.
 
"It was a strategic decision to build out the school's online portfolio," said Enfield, who specializes in designing online programs. Selecting the programs was based on data, market research and labor projections.
 
"The research needed to answer, 'Where is the field going?'" Enfield said. "We needed to prepare our students for the 21st century and what jobs are coming."
 
Choosing the courses was one challenge. Getting faculty prepared was another. Enfield said it was vital the program directors were tenured faculty members who were heavily involved in designing the curriculum.
 
"They all took a chance," Enfield said. "They were open-minded and willing to do everything that was counter to what they had done before."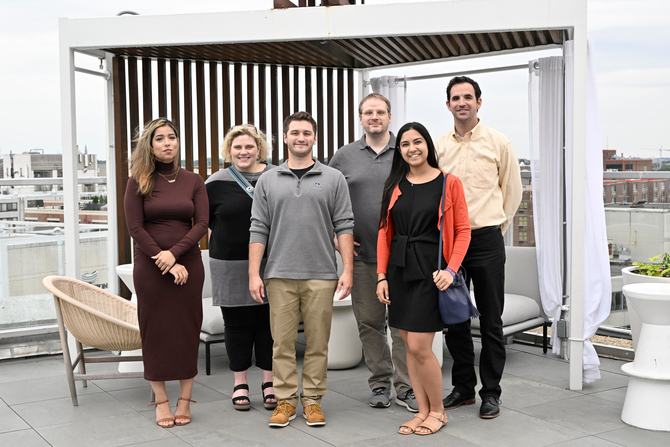 First-ever online MAGR graduates

Dr. Erik Jones is the former Director of MAGR, both in-person and online. One of his initial concerns was that an online program would take away potential in-person participants.
 
"That was absolutely not the case," said Jones, a Professor of European Studies and International Political Economy. "Online students are not the students who would have applied in-person. This became a great opportunity to reach a new constituency for SAIS."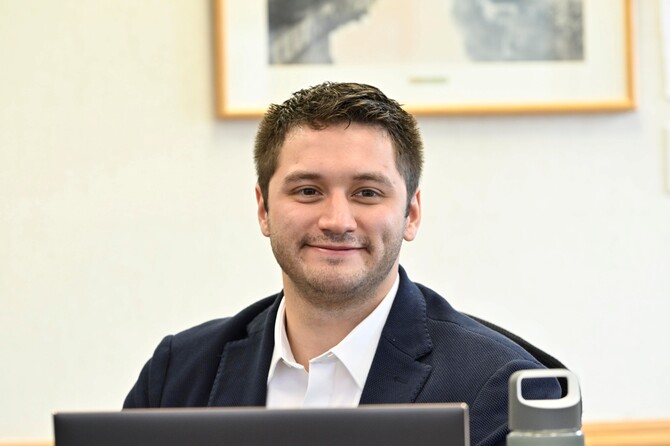 Vincent Bejarano, online MAGR graduate

The online component helped lure Vincent Bejarano, as did the reputation of JHU and SAIS. "I was able to go to a great school without the cost of relocating or commuting, and I was able to do the assignments on my own time," said Bejarano, of Fort Collins, Colo., one of the MAGR graduates.
 
Dr. Matthias Matthijs, now the Director of the MAGR program, went so far as to call himself a skeptic in the early days.
 
"You were so used to seeing students in person, talking after class, running into them in the corridors," said Matthijs, an Associate Professor of International Political Economy. "To my surprise, this has been an overwhelmingly positive experience."
 
Graduation week won't be all celebration for MASE and MAGR students. That week is their residency, where they present their capstones. It's like defending their dissertation, Enfield said.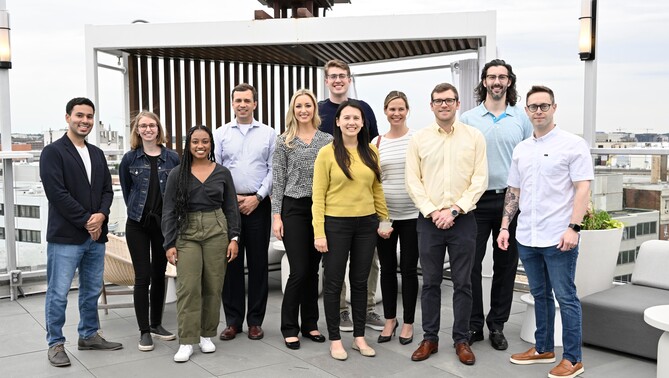 First-ever online MASE graduates

MASE Director Dr. Johannes Urpelainen is looking forward to the students coming together and seeing their projects. "They have been doing very interesting work. Some are getting promotions even before finishing the program," he said.
 
There is an in-person residency during the program's first year, in D.C. for MASE and in Bologna, Italy, for MAGR. Because of Covid restrictions, not everyone could attend. This will be the first time some of the students have met in person, and they'll get to connect at a reception for the online students on Monday, May 23.
 
"There's a dynamic in an online course that brings the group close," Jones said. "They have really grown together as a cohort."
 
That goes for the faculty, too. "I spent a week with many of them in their first residency. I've taught them over two years," Jones said. "These people are my friends, and I'm really looking forward to hanging out with them, seeing how they are doing and learning where they're going from here."
 
"For us, it's been a life-changing experience," Jones added." We hope it's been the same for them."
 
Bejarano agreed. "The faculty and support staff are very responsive, friendly, and helpful to ensure a positive experience," he said. "By the end of the program, I have a better understanding of the global environment and events that have shaped and continue to shape our world and future."
 
For Urpelainen, the first graduating class is confirmation of all the work that went into developing the program. "We know we can recruit excellent students and they're going to build impressive and exciting careers in the new energy industry," he said.
 
Applications are currently open for the cohort that will start in August of 2022. Enfield said there has been significant growth and interest in the programs.
 
"It's a no-brainer," said Urpelainen, a Professor of Energy, Resources and Environment and the Founding Director of the Initiative for Sustainable Energy Policy. "Where else can you get a top education from a Top 10 university in the United States, at a lower cost, and you can stay in your job?"
 
"It's an amazing sense of accomplishment," Enfield said. "We basically started with nothing, and now we have 24 students graduating. It's a huge accomplishment for our faculty, for all the staff, for everyone at SAIS."

About MASE
The Master of Arts in Sustainable Energy prepares students for a career in the clean energy transition with a focus on understanding economics, finance, policy, regulation and international affairs. It is not a technical or engineering focus like some sustainable energy degrees.
 
"There are a number of vacancies and jobs in the industry but very few people who have the knowledge and background to fill them," Urpelainen said. "This training on the energy transition and new energy industry is what's needed to fill that gap and create leaders and new energy professionals."
 
MASE coursework covers finance, economics, international energy markets, and policy as they relate to the field of sustainable energy, building skills in quantitative and qualitative analysis.

About MAGR
The Master of Arts in Global Risk helps students develop a deeper understanding of international financial markets and how to analyze political and economic risks.
 
Students will go onto jobs where they will help their employers navigate an uncertain world, advising and managing risk in the face of economic slowdowns, regime changes, wars and pandemics.
 
"MAGR sets students up to use cutting edge academic research – insights from economics, history, and political science – to help people who have to make forward-looking decisions," Jones said. "Academics like to pretend they cannot predict the future. The public and private sectors don't have that luxury."
 
The coursework covers statistics, economics, risk modeling, global markets and risk in different regions of the world. The curriculum was designed to prepare graduates to better understand the greater context around risk and critically evaluate risk management strategies.

SAIS Class of 2022 Commencement Ceremony
Wednesday, May 25 at 11 a.m. at DAR Constitution Hall (Doors open at 10 a.m.)
 
Tickets required for family and guests
 
Keynote Speaker: Dr. Lael Brainard, Vice Chair, Board of Governors of the Federal Reserve System