Photographic Memory
May 23, 2022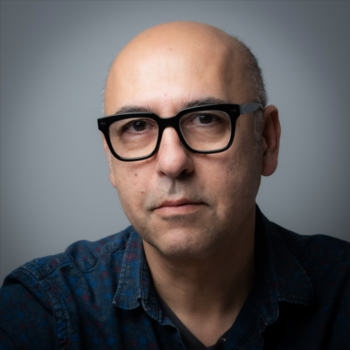 Kaveh Sardari looks back as he prepares to photograph his 35th consecutive SAIS commencement ceremony
Award-winning photographer Kaveh Sardari first photographed the SAIS Commencement in 1988. This May, he'll be at DAR Constitution Hall covering his 35th consecutive SAIS graduation. A longtime Washington, D.C.-based photographer, Sardari has covered presidential inaugurations and political conventions in addition to his years photographing SAIS events. He shared some of his memories of SAIS and photography over the years, and what SAIS has meant for him and his career.

Q: This is your 35th consecutive year photographing commencement at SAIS. What is so special about this event that keeps bringing you back?
Kaveh Sardari: Honestly, it's like family to me. SAIS was my very first official photography job in Washington. And through SAIS my business grew unexpectedly into the foreign policy and national policy realm. I started getting calls from up and down Mass Ave, getting referrals. People would ask, "Who do you know who takes pictures of this kind of stuff?" And they'd say, "We have this guy Kaveh." Now many of them are my clients, too. A lot of the think tanks in Washington just by default became my clients, to this day. It's been a learning experience. I always joke I can run panels on foreign policy or international economics or taxation, or whatever, because I've sat through so many VIP speakers, so many amazing heads of states, so many amazing secretaries of state or of treasury. It's like playing with your camera, getting paid and learning a whole lifetime.

What do you remember about the first SAIS graduation that you shot?
Sardari: So here's the thing - I have my actual hardcover calendar from 1988. My wife says I'm a hoarder, but you know you have to document things in life. The first graduation I did was in 1988. There's an appointment in the book for Thursday, May 26, 1988. It says "Meet Paula Simmons (former SAIS communications director) at SAIS from 2:30 to 6:30 p.m." And the speaker was former President of Venezuela Carlos Perez. He was re-elected as President later that year. Graduation used to be held at a church on O Street and 16th Street because it was a much smaller class than what it is now, and so you'll see that church in some of the early pictures. And it was very exciting because, I mean, it was black and white film. I had my own lab in my tiny efficiency in Adams Morgan, where I lived.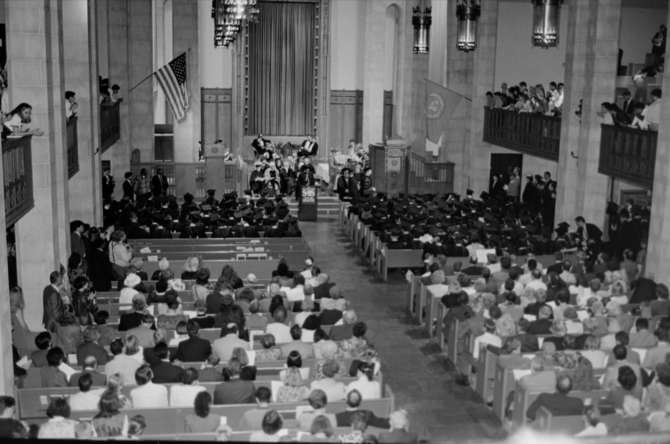 SAIS Commencement, First Baptist Church of the City of Washington, D.C., May 1989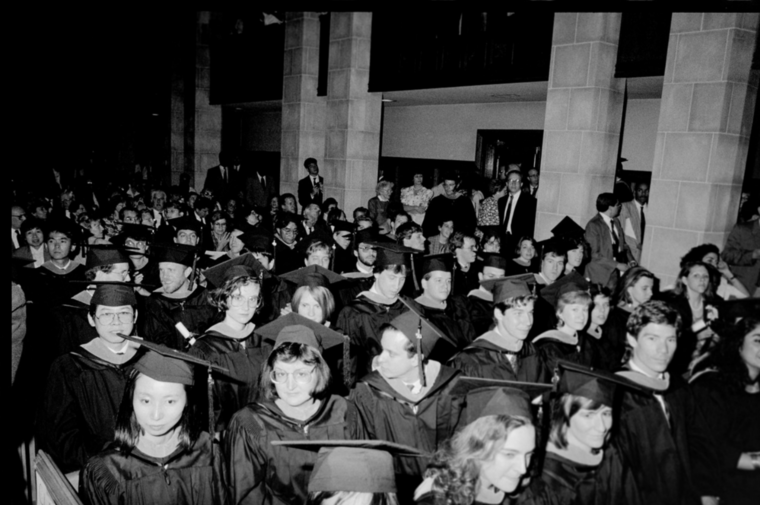 SAIS graduates, May 1989


Left to right Associate Dean George Crowell, former U.S. Ambassador to Russia, Robert Strauss, Dean of SAIS George Packard, and SAIS graduate Leila Austin receiving diploma, May 1993

To backtrack just a little bit, I had a very good friend with whom I spoke just this morning. He lives in Rome now. He used to be a student at SAIS, and he was doing photography as a side thing at SAIS as well as being a student. He told me he was graduating and asked if I wanted to show Paula some of my work so I could maybe pick up some of the photography work that he used to do. I said I'd be happy to. I met with Paula and showed her some contact sheets of things that I had photographed. And she's said we'll give you a shot. We met in 1987. I did a couple of assignments in 1988 and she was pleased. There's another entry in the calendar that says, "Paula starts giving me assignments at SAIS." I still have the very first invoice that I sent her. I charged her $25 for the shoot. I think it was like a half-hour shoot, it was a portrait and she gave me the roll of film and I processed it for her. And then she started giving me more assignments. And before I knew it, I was doing a lot of portraits. I was photographing all the speakers who came to SAIS. And then it just went on from there.

I had just moved to Washington two years before, from Bloomington, Ind., where I was going to school at Indiana University. I always knew I wanted to be a photographer. I was doing photography and I was getting some clients before SAIS, but SAIS really put me on the map for this kind, Washington-based photography.

Since then, I photographed the last seven inaugurations from the first Clinton inauguration in 1993. I've covered six Democratic and six Republican National Conventions. I've photographed almost every head of state, current and previous, that I can think of in the last 35 years in Washington. (Holding up a photo of President Obama that sits behind him on his desk) I won an award for this picture of President Obama, and it was in several books. He signed it for me, too. He signed it, "Yes we did."

That's the one that's on your website, with President Obama in the rain.

Sardari: That's right. And as recently as last Wednesday, I photographed President Biden in Chicago for an event. It's just an amazing ride. And I owe so much of it to SAIS and that gets back to the original question you asked me. It's family for me. I photographed several weddings from couples who met as students at SAIS. I photographed bar mitzvahs, kids and families of students who went to SAIS and got married. I run into people now 30 years after they graduated from SAIS and they're heads of different companies or Undersecretary of State or something. And everybody remembers me. They tell me I haven't changed much at all.

That's great. It's like your origin story, in a superhero movie.

Talk about some of the other memorable moments that you have shared in the previous 34 graduations. What sticks out for you?
Sardari: The Dalai Lama for sure. Just being in his presence, for some reason there's this spiritual force of nature. I don't know what it is. I usually don't get too excited about meeting a head of state or photographing them or being in a VIP room with presidents or vice presidents or heads of state. I'm always focused on my F stop, my shutter speed, what angle would be best. And you sort of forget, and you need to forget where you are because you don't want to be part of the story. They are the story. But with the Dalai Lama, for some reason it just it was just overwhelmingly exciting.

At that point, the graduation was at Constitution Hall, as it is now. And Paul Nitze, one of the founders of the school, was still alive and there that day. They met each other in this VIP green room, where I was with the Dalai Lama's entourage and several people from SAIS. And they sat down and had a 20-minute conversation before the event. There's a black and white photograph of the Dalai Lama I made in that room. And he almost looks like he's looking at me. He turned toward me and he gave me that beautiful smile. So that that was really memorable for me.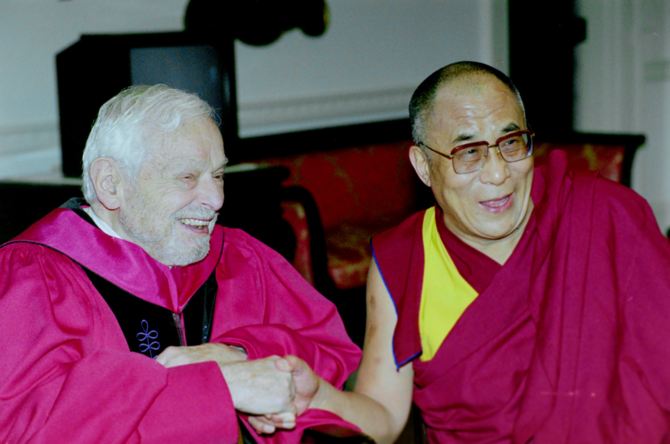 Ambassador and SAIS co-founder Paul H. Nitze and His Holiness, the Dalai Lama, May 2001

The other one was Hillary Clinton. She was First Lady at the time she spoke. That was when Paul Wolfowitz was Dean. I'll never forget - at that point I was photographing every single graduate as they walked across the stage. So I have everything set up. I had an additional light set up on the stage so that when the graduates take their walk and shake hands with Hillary Clinton, I can get that picture. Of course, at the last moment, the Secret Service said I can't have the light stand there. Back then, I was shooting on color film. It was a painful thing to have to photograph every student with only the available light on stage, knowing that it's going to be a little bit under exposed. And then I'm going to have to make measurements on how to overdevelop it to get enough contrast and tone for it to be presentable for the student. But I got through it. I have the pictures. Everybody ordered it, of course, because it was Hillary Clinton. At that point, graduation was in the Lincoln Theater, on U Street around 12th Street. We had it there for about three or four years before they moved it to Constitution Hall. As SAIS grew, we went from the small church to Lincoln Theater to Constitution Hall, and now we fill up Constitution Hall because we have more than 500 graduates and their guests.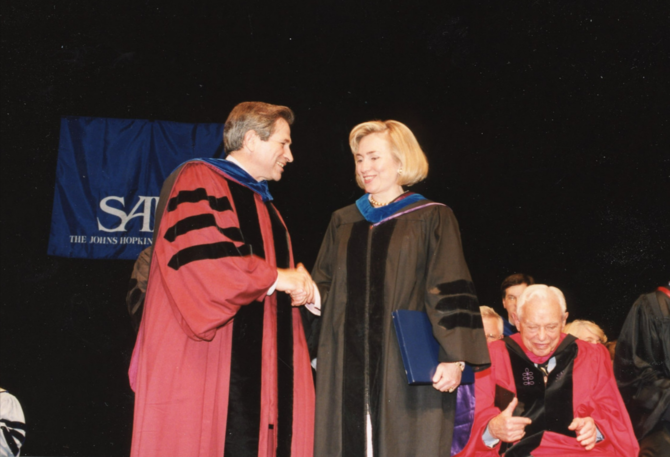 Dean of SAIS Paul Wolfowitz welcomes First Lady Hillary Clinton, May 1997

Do you have any favorite photos or any favorite subjects from the graduations?
Sardari: Honestly, the Dalai Lama. I remember things then were slowly moving towards digital. I was one of the first people that I know who pushed their clients to go digital and to leave film behind. In 2001 I bought my very first Nikon D1X, which was a whopping 5 1/2 megapixels and I paid about $6,000 for it. The battery lasted maybe half an hour and the memory cards, if you remember, were so small. We weren't talking about multiple megapixels or gigabytes. We're talking about megabytes. Every card would hold maybe 40 pictures or 50 pictures, very much the same as a roll of film. And they were super expensive. Every one of my clients was worried about what the digital thing is going to look like. So for the first two years, I backed up everything with film. I would shoot digital and film. And then when things kind of stabilized in the digital world and pictures would actually come out, I went full digital.

Here's something else I have that I had made a print of. This is General Colin Powell, Chairman of the Joint Chiefs of Staff at the time, or at least Colin Powell's shoes as we walked from that church to SAIS for the reception. I was so taken with his uniform and his demeanor. Of course, Colin Powell was a very good-looking person, very photogenic. He had this stature, a general whose every movement is military precision. As we got to the corner of Massachusetts and 17th street - I remember exactly this moment because some moments you never forget when you actually press that shutter - I looked down and I saw his black patent shoes, so well-polished, and his uniform, and I thought, "I'm going to steal a shot because this represents Colin Powell."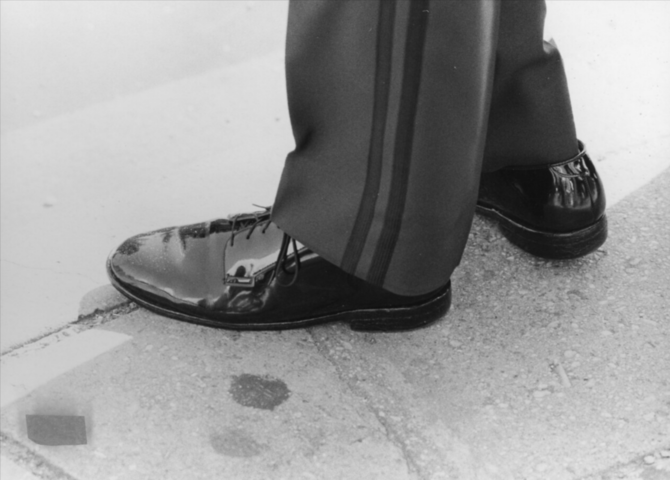 General Colin Powell en route to SAIS commencement reception; corner of Massachusetts Avenue & 17th Street, May 1992

It's a portrait but it doesn't show the person's face. I love making portraits of people, either from the back or the side, where you can't distinguish who the person is, but it conveys something about their personality or their job. I've always done that in all of my career.

As you're looking back on graduation photos over the years, what stands out?
Sardari: Like I said earlier, some people still recognize me and it's very flattering when someone says, "You really haven't changed in the last 25 years." Watching these groups of 500 students graduating every single year, you're talking more than 15,000 students I've witnessed walk on stage. And then I've watched them walking into a life of service, in government or NGOs, based all over the world. I've made a lot of friends because I ended up always photographing students through the years, or they worked in the communications office as an intern while they were a student. Now I see them as ambassadors, assistant secretaries or deputy secretaries. Evan Ryan, the White House Cabinet Secretary, is a SAIS graduate. I distinctly remember when she was graduating. Watching these students take such an important role in the world, and having known them personally, is just an amazing feeling. And it says something about the institution of SAIS that has produced this caliber of people.

When you've done the same event so many years in a row, what do you do to keep it fresh or new?
Sardari: No matter how long I've been doing this, I'm always looking for something different or something new. That's part of what keeps me interested in this work. You always find something that you never thought of before, even in the same hall or in the same room at the same event. And that's what I'm looking for at this year's graduation. I'll be doing videos as well, interviewing students.

At the graduations, sometimes the first time the speaker meets the dean, that's always an exciting moment to capture. And I like to capture them with the faculty, many of whom are still the same.

Eliot Cohen, the former Dean, has been there a long time. I was just going through some images I found from 1990 or 1991 where he did an event at Antietam that I went to cover. I'm going to have to send those to him. He's going to be really excited. We just unveiled the portrait that I did of him. Every dean who leaves gets a portrait, the last four I've done it in photos. Before that it was a painting. When you go to SAIS, you see paintings of all the founders and the deans and then the last four, starting with Paul Wolfowitz up through Eliot Cohen, are my photographs – which is an honor that they asked me to do that.

When you're not shooting these events, you said you've done inaugurations, conventions and more. What are your favorite things to photograph?
Sardari: I love the idea of power. I can be standing next to a president, surrounded by Secret Service and I'm there just trying to be a fly on the wall. There's always that human aspect of these people. We are all human beings. But we see them as all-knowing, all-powerful rulers of the free world. We want to feel something about their humanity. Also, being next to the presidential limousine when they open the door and the president gets out - having covered so many of these things, not only do I take the image of that instant, I have this mental image that always lives with me. Sometimes in my memory I can go back and revisit so many of these instances. Like being in the South stand at the Capitol, photographing an inauguration in 5-degree or 10-degree weather with freezing rain coming into my lens. (That was President George W. Bush's second inauguration.)

SAIS used to have a program that would work with inner city communities, and I would go with them to cover communities that are underserved and need development. The balance, in my mind of photographing a president, and a program like that, is that sweet spot where I think I'm just so fortunate to be able to witness these moments with all kinds of people, from all strata in life, and to be able to connect with them and photograph them. That's what I love about the life that I've lived with this profession.

How does photographing the commencement compare to some of the other work that you do?
Sardari: No work is too little for me. I still get all kinds of work. A lot of my colleagues that have done this for so long have become very specialized. For me, it's always been this range of what else in life I can capture and try to do justice to it and bring a fresh point of view to it.

In all of your works, do you have any favorite photos over the years or favorite subjects?
Sardari: All of the presidents that I that I photographed, even the ones that may not have agreed with. For me it's an objective job and I show up trying to do justice to the people that I photograph. But of all the presidents, I think, President Obama and President Clinton were a lot of fun. And President (George W.) Bush was a lot of fun. The time he came to SAIS, of course you know he's got nicknames for everybody, and he jokes around with everybody. That was a really lovely afternoon and everybody enjoyed it.

Former Secretary of State Madeleine Albright was one of the people who came many, many times to SAIS. She was always mentoring a lot of the students. She never hesitated to come in and meet with small groups or large groups. Through the years I have dozens and dozens of times at SAIS that I've photographed her.

Hamid Karzai, when he became president of Afghanistan, he came to SAIS. For security reasons, he waited in the basement before the event. They brought him in early through a side door and took him into the basement. He had about half an hour waiting there, so he started playing foosball and pool with people at SAIS. That was definitely an interesting moment to capture.  

I read on your website that you do over 200 assignments per year. That seems like a very busy life and can take you all over the place. What have you been doing lately? Where do your assignments take you?
Sardari: During COVID I was sitting at my home, I was completely depressed, I was demoralized. I thought no one's ever going to call me again. They're going to forget about Kaveh. If I ever retire, this is what it's going to feel like. Then last October and November slowly some calls started coming in. And lo and behold, it's May now and I can't keep up with the number of events that I need to cover. Last week I was in Chicago for a 10-day convention for the International Brotherhood of Electrical Workers. I also do a lot of work for different unions. I've done for the last 25 years. President Biden spoke there and I photographed him.

Right before COVID, in 2019, that was my busiest year. I had 269 assignments. I photographed in Hong Kong, France, Switzerland and Portugal. I photograph for a magazine in the UK called Mercedes Enthusiast. I went with a friend writer to Hong Kong to photograph an auto club of fathers and sons who both own Mercedes and refurbish them. That's how wildly different my assignments are.

To wrap up, one last question. What are you most looking forward to at this year's commencement?
Sardari: What's going to be interesting is this is the first in-person commencement since Covid started. I actually covered the last two. They were online, but the Dean came to SAIS and spoke on camera. Last year, we actually had some of the students in their caps and gowns Interviewed and photographed Individually. That will be another thing, looking back at 35 years of commencement photos, having two of them in Covid isolation.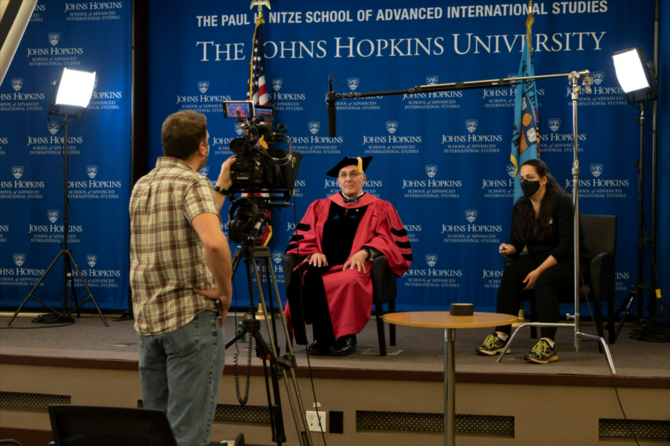 Dean of SAIS Eliot Cohen opens commencement ceremony, May 2021

This year what's going to be amazing is this class, who for maybe half of their time at SAIS has been behind their Zoom meetings, will meet for the first time and go through commencement together. I just know these faces are going to be lighting up like we all are every time we get together. I'm looking forward to capturing that joy, that jubilation of accomplishing something that was so difficult for most of them.

After 35 years, the last two and even this one, are very different. Hopefully over the next 15 or 20 years I can still do this. Every time leadership changed at SAIS or teams changed at SAIS - which you can imagine how many times that happened in 35 years - what gives me joy is not only did they not let me go, but they challenged me and they pushed me to keep going forward. I'm extremely thankful to every team that came along, that kept me and challenged me and pushed me to be even better than what I had been before.

---
Photographic highlights of 35 years of SAIS commencement ceremonies
1989 Commencement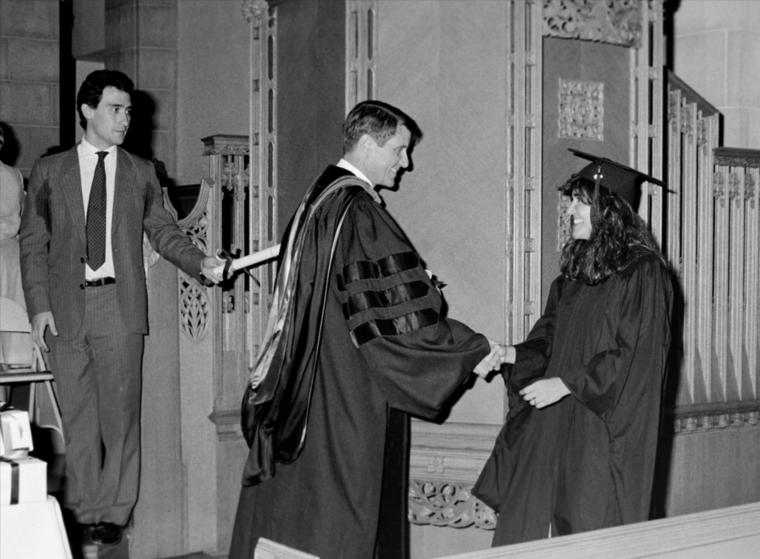 SAIS Commencement, May 1989

It was a little stressful for me because remember back then we couldn't look at the back of the camera to know what kind of exposure we got. You would have to guess how many feet you are away from your subject. And there were these different modes you would set it on according to how far you think you are away from your subject. So getting a correct exposure was always a little challenge. But now that I'm looking at these contact sheets. I'm quite pleased with how even the exposures are. That was part of the excitement. And the other part was to capture the moments that SAIS needed. You know, the speakers, some of the students walking up and receiving their diplomas and shaking hands with dean.

Now it's interesting to watch people's hairstyles. A lot of that stuff is probably coming back, right? It's fun trying to watch what people wore or how they wore their hair, or glasses or things.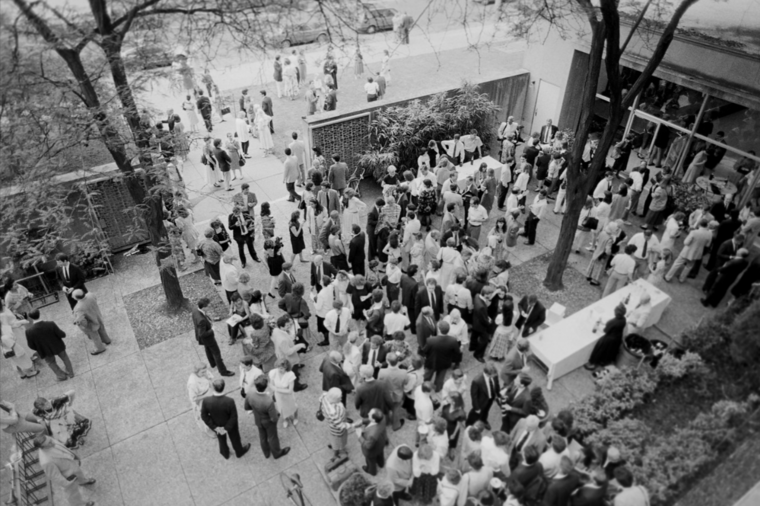 Commencement reception at SAIS courtyard, May 1989

This is the courtyard at SAIS, which still looks the same. The only difference that I noticed is there were two large trees in the courtyard. The one on the right doesn't exist anymore. But the one on the left is still there, and it's a beautiful tree and I use that tree still for a lot of portraits. Of course, now we have a chunk of the Berlin Wall, which was donated to SAIS, on one side of it, which I use as a background for a lot of portraits using that tree as a shade.