Internship Opportunities
Enhance your resume with valuable work experience during your graduate program. The school's global career counselors and degree programs have a track record for connecting talented students with alumni and organizations to secure rewarding internship opportunities.
75% of students in the two-year Master of Arts in International Relations degree participate in an internship during the summer between their first and second years and nearly half pursue part-time internships during some portion of the academic year.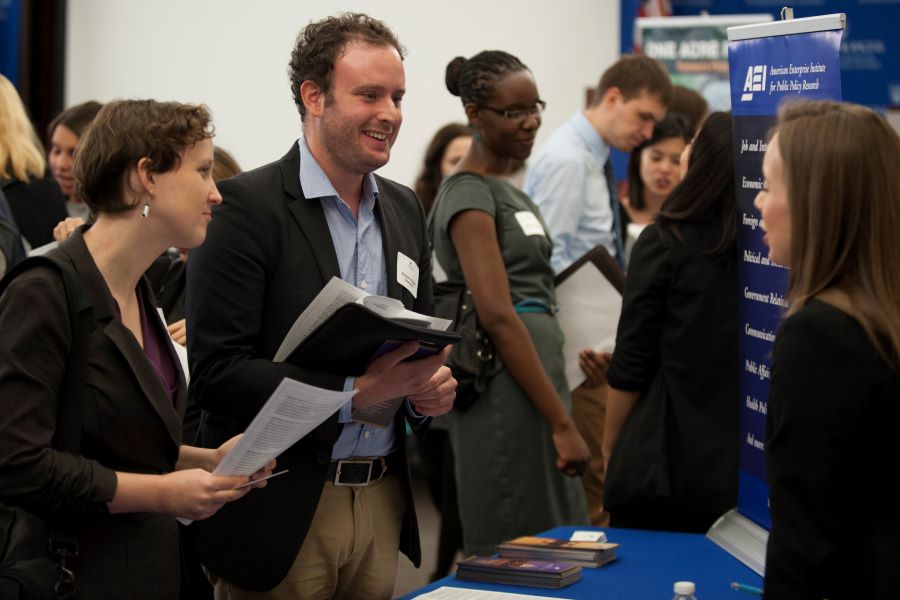 Build Your Network
Through self-assessment reviews, you can clarify and explore your goals and potential career paths. Our team of career counselors will review assessment findings to discuss any impact the results may have on your professional development and career choices.
You can then work with career counselors and degree program advisers to review internship openings or connect with alumni and organizations in your field.
Recent Internships
 
Acumen Public Affairs
Banque Centrale du Luxembourg
Centre for European Policy Studies
China Institute of International Studies
Chinese Academy of International Trade and Economic Cooperation, Ministry of Commerce
Congressional Research Service
CRIF Ratings
Economic Commission for Latin America and the Caribbean
Farm Africa
German Marshall Fund of the United States
Human Rights Watch
Institute of Energy Economics Japan
International Crisis Group
International Law Institute
International Trade Association
International Trade Centre
Istituto Affari Internazionali
Korea Economic Institute
Lebanese Center for Policy Studies
Microdreams Foundation
Middle East Institute
Millennium Challenge Corporation
National Commission on Military, National and Public Service
Institute for the Analysis of Global Security
 
Office of the US Trade Representative
Overseas Private Investment Corporation
Russian International Affairs Council
South African Reserve Bank
Tel Aviv Municipality
The Conference Board
The European Commission
The European Parliament
The National Interest
The NATO Parliamentary Assembly
The Nature Conservancy
The People's Bank of China
The Washington Institute
US Department of Commerce
US Department of State
US Department of the Treasury
US House of Representatives
UN Women DC Liaison Office
United Nations Department of Economic and Social Affairs
United Nations Development Programme
United Nations Secretariat
World Bank
World Resources Institute
Yalta European Strategy
United Nations Peacebuilding Support Office
Summer Internship Fund
The Summer Internship Fund provides financial assistance to rising second-year students in the two-year Master of Arts in International Relations program with confirmed unpaid, full-time summer internships in the public, private, multilateral, or nonprofit sectors. Awards are available to students on all three campuses, in any concentration, for work in any region between their first and second year.
 
Hopkins-Nanjing Center Internship Support Fund
The Hopkins-Nanjing Center Internship Support Fund (HISF) was created to provide financial assistance for Hopkins-Nanjing Center international students who wish to intern in China over the summer. Awards are available to all international students interning in the China, regardless of sector (public, private, non-profit, multilateral). Awards are intended to supplement students' cost of living and will be granted on a competitive basis.