Faculty Ink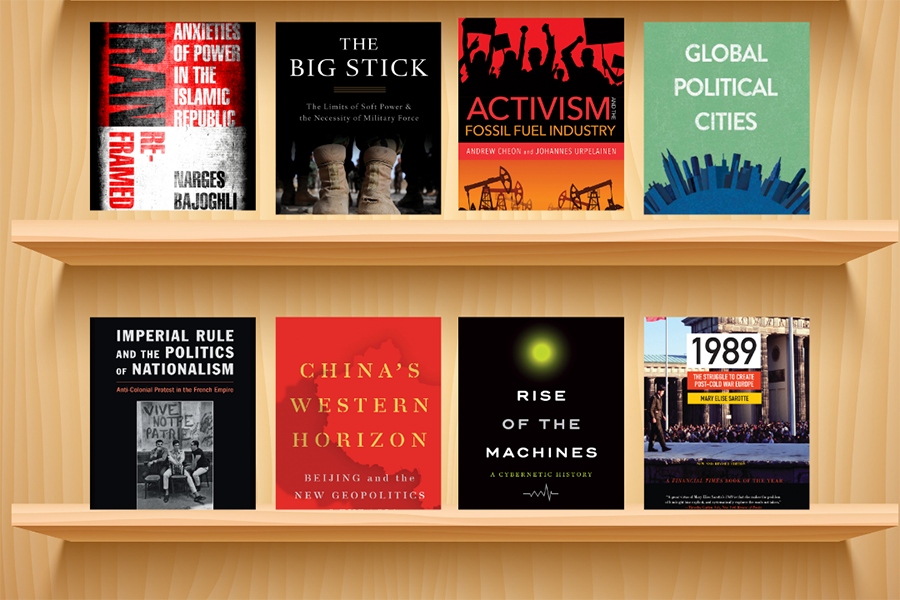 Books Published by Johns Hopkins SAIS Faculty
Renewables: The Politics of a Global Energy Transition 
Michaël Aklin, Johns Hopkins SAIS Initiative for Sustainable Energy (ISEP) Fellow
Johannes Urpelainen, Director and Prince Sultan bin Abdulaziz Professor of Energy, Resources and Environment; Founding Director, Johns Hopkins SAIS Initiative for Sustainable Energy Policy (ISEP)
 
After the 1973 oil crisis, the limitations of an energy system based on fossil fuels created an urgent need to experiment with alternatives, and some pioneering governments reaped political gains by investing heavily in alternative energy such as wind or solar power. Public policy enabled growth over time, and economies of scale brought down costs dramatically. In this book, Aklin and Urpelainen offer a comprehensive political analysis of the rapid growth in renewable wind and solar power, mapping an energy transition through theory, case studies, and policy analysis. They also analyze the key factors that enable renewable energy to withstand political backlash, and draw on their analysis to explain and predict the development of renewable energy in different countries over time.

Twilight of Democracy: The Seductive Lure of Authoritarianism
Anne Applebaum; Senior Fellow of International Affairs; Agora Fellow in Residence

From the United States and Britain to continental Europe and beyond, liberal democracy is under siege, while authoritarianism is on the rise. In Twilight of Democracy, Anne Applebaum, an award-winning historian of Soviet atrocities who was one of the first American journalists to raise an alarm about antidemocratic trends in the West, explains the lure of nationalism and autocracy. In this captivating essay, she contends that political systems with radically simple beliefs are inherently appealing, especially when they benefit the loyal to the exclusion of everyone else.
Free and Open Indo-Pacific Strategy Outlook
David Arase, Resident Professor of International Politics

The United States launched a new Free and Open Indo-Pacific (FOIP) strategy in late 2017 after reluctantly concluding that its patient effort to engage and socialize China to the rules-based order since 1972 had failed. China's behavior since 2009 convinced the United States that China is a revisionist power seeking to impose an authoritarian model of governance in Asia which, if successful, would end the rules-based order in the Indo-Pacific as well as endanger US security and vital trade interests.
 
Iran Reframed: Anxieties of Power in the Islamic Republic (Stanford Studies in Middle Eastern and Islamic Societies and Cultures) 
Narges Bajoghli, Assistant Professor
 
Iran Reframed offers unprecedented access to those who wield power in Iran as they debate and define the future of the Republic. Over ten years, Narges Bajoghli met with men in Iran's Revolutionary Guard, Ansar Hezbollah, and Basij paramilitary organizations to investigate how their media producers developed strategies to court Iranian youth. Readers come to know these men—what the regime means to them and their anxieties about the future of their revolutionary project. Contestation over how to define the regime underlies all their efforts to communicate with the public. This book offers a multilayered story about what it means to be pro-regime in the Islamic Republic, challenging everything we think we know about Iran and revolution.

Adaptation Under Fire: How Militaries Change in Wartime
David Barno, Senior Fellow, Philip Merrill Center for Strategic Studies; Visiting Professor of Strategic Studies
Nora Bensahel, Visiting Professor of Strategic Studies and Senior Fellow of the Merrill Center for Strategic Studies

Every military must prepare for future wars despite not really knowing the shape such wars will ultimately take. As former U.S. Secretary of Defense Robert Gates once noted: "We have a perfect record in predicting the next war. We have never once gotten it right." In the face of such great uncertainty, militaries must be able to adapt rapidly in order to win. Adaptation under Fire identifies the characteristics that make militaries more adaptable, illustrated through historical examples and the recent wars in Iraq and Afghanistan.

COVID-19 and World Order
Hal Brands, Henry A. Kissinger Distinguished Professor 
Francis J. Gavin, Giovanni Agnelli Distinguished Professor; Director of the Henry A. Kissinger Center for Global Affairs

The ongoing COVID-19 pandemic has killed hundreds of thousands of people and infected millions while also devastating the world economy. The consequences of the pandemic, however, go much further: they threaten the fabric of national and international politics around the world. As Henry Kissinger warned, "The coronavirus epidemic will forever alter the world order."

What will be the consequences of the pandemic, and what will a post-COVID world order look like? No institution is better suited to address these issues than Johns Hopkins University, which has convened experts from within and outside of the university to discuss world order after COVID-19. In a series of essays, international experts in public health and medicine, economics, international security, technology, ethics, democracy, and governance imagine a bold new vision for our future.
 
The Lessons of Tragedy: Statecraft and World Order
Hal Brands (co-author), Henry A. Kissinger Distinguished Professor 
 
In a forceful argument that brims with historical sensibility and policy insights, two distinguished historians argue that a tragic sensibility is necessary if America and its allies are to address the dangers that menace the international order today. Tragedy may be commonplace, Brands and Edel argue, but it is not inevitable—so long as we regain an appreciation of the world's tragic nature before it is too late.
 
Will Africa Feed China? 
Deborah Bräutigam, Bernard L. Schwartz Professor in International Political Economy and Director of China-Africa Research Initiative

This book probes the myths and realities behind media headlines. Defying expectations, China actually exports more food to Africa than it imports. Is this picture likely to change? African governments are pushing hard for foreign capital, and China is building a portfolio of tools to allow its agribusiness firms to "go global." Yet to feed its own growing population, rural Africa must move from subsistence to commercial agriculture. Will Africa Feed China? introduces the people and the politics that will shape the future of this engagement: the state-owned Chinese agribusiness firms that pioneered African farming in the 1960s and the entrepreneurial private investors who followed them.
 
Incentivized Development
David J. Bulman, Assistant Professor of International Affairs and China Studies and Director of the Pacific Community Initiative

China's economy, as a whole, has developed rapidly over the past 35 years, and yet its richest county is over 100 times richer in per capita terms than its poorest county. To explain this vast variation in development, Bulman investigates the political foundations of local economic growth in China, focusing on the institutional and economic roles of county-level leaders and the career incentives that shape its behavior.

Asia in Washington: Exploring the Penumbra of Transnational Power 
Kent E. Calder, Interim Dean, Director of the Edwin O. Reischauer Center for East Asian Studies

In Asia in Washington, Calder examines the concept of this "global city" in the context of international affairs. The term typically has been used in an economic context, referring to centers of international finance and commerce such as New York, Tokyo, and London, but Calder extends the concept to Washington, D.C., a city arising within the new structure—distinguished not by CEOs or stock markets, but by its influence over policy decisions, and its amassing of strategic intelligence. Within Washington, the role of Asia is especially relevant because it represents the core of the non-Western industrialized world and raises the delicate issue of how race matters in international global governance. Calder explains how Asian nations establish, increase, and leverage their Washington presence, their impact on Washington itself, and their decisions made there.

Global Political Cities
Kent E. Calder, Interim Dean, Director of the Edwin O. Reischauer Center for East Asian Studies

In Global Political Cities, Calder focuses on fifteen major cities across Europe, Asia, and the United States, including New York, London, Tokyo, Brussels, Seoul, Geneva, and Hong Kong, not to mention Beijing and Washington DC. In addition to highlighting the achievements of high-profile mayors, the book chronicles the growing influence of think tanks, mass media, and other global agenda setters, in their local urban political settings. It also shows how these cities serve in the Internet age as the global stage for grassroots appeals and protests of international significance.

Singapore: Smart City, Smart State 
Kent E. Calder, Interim Dean, Director of the Edwin O. Reischauer Center for East Asian Studies

Calder describes Singapore as a laboratory for solutions to problems experienced by urban societies around the world. In particular, he shows how Singapore has dealt successfully with education, energy, environmental, housing, and transportation challenges. He explains how Singapore offers lessons for how countries can adapt their economies to the contemporary demands of global commerce. Singapore consistently ranks at the top in world surveys measuring competitiveness, ease of doing business, protection of intellectual property, and absence of corruption. This book offers concrete insights and a lucid appreciation of how Singapore's answers to near-universal problems can have a much broader relevance, even in very different societies.

Super Continent: The Logic of Eurasian Integration
Kent E. Calder, Interim Dean, Director of the Edwin O. Reischauer Center for East Asian Studies

A Eurasian transformation is underway, and it flows from China. With a geopolitically central location, the country's domestic and international policies are poised to change the face of global affairs. The Belt and Road Initiative has called attention to a deepening Eurasian continentalism that has, argues Kent Calder, much more significant implications than have yet been recognized. In Super Continent, Calder presents a theoretically guided and empirically grounded explanation for these changes. He shows that key inflection points, beginning with the Four Modernizations and the collapse of the Soviet Union; and culminating in China's response to the Global Financial Crisis and Crimea's annexation, are triggering tectonic shifts. Furthermore, understanding China's emerging regional and global roles involves comprehending two ongoing transformations—within China and across Eurasia as a whole—and that the two are profoundly interrelated. Calder underlines that the geo-economic logic that prevailed across Eurasia before Columbus, and that made the Silk Road a central thoroughfare of world affairs for close to two millennia, is reasserting itself once again.

Family Business in China, A historical Perspective (Volume 1)
Ling Chen, (co-author), Assistant Professor of Political Economy and China Studies

Unlike other economies, family businesses in China are greatly affected by the derived Confucian culture, excessive marketization, as well as the seemingly endless institutional supervision by a transitional Chinese government. China has a strong historical legacy, devoted to patriarchal values and strong family-centered traditions.

This volume explores the social foundations and historical legacies of families, business families, and family businesses in China.
 
Manipulating Globalization: : The Influence of Bureaucrats on Business in China 
Ling Chen, Assistant Professor of Political Economy and China Studies

Although China is a global manufacturing titan, the "made in China" model has begun to wane. Beginning in the 2000s, China shifted from attracting foreign investment to promoting the competitiveness of domestic firms. The subsequent tensions between winners and losers led local bureaucrats to compete in offering businesses funding and tax breaks. While some bureaucrats successfully motivated businesses to upgrade, others left businesses in a desperate race to the bottom. With in-depth interviews, original surveys, and quantitative data, Ling Chen argues that this regional variation is rooted in how foreign firms strengthened or weakened vested interest coalitions.

Activism and the Fossil Fuel Industry 
Andrew Cheon, Assistant Professor of International Political Economy
Johannes Urpelainen, Director and Prince Sultan bin Abdulaziz Professor of Energy, Resources and Environment, Founding Director, Initiative for Sustainable Energy Policy (ISEP)

In less than a decade, activism against the fossil fuel industry has exploded across the globe. While environmentalists used to focus on legislative goals, such as carbon emissions trading or renewable energy policies, today the most prominent activists directly attack the fossil fuel industry. This timely book offers a comprehensive evaluation of different types of activism, the success and impact of campaigns and activities, and suggestions as to ways forward. This book is the first systematic treatment of the anti-fossil fuel movement in the United States. An accessible and readable text, it is an essential reference for scholars, policymakers, activists, and citizens interested in climate change, fossil fuels, and environmental sustainability.

The Big Stick: The Limits of Soft Power and the Necessity of Military Force 
Eliot A. Cohen, Robert E. Osgood Professor

In The Big Stick, Cohen argues that hard power remains essential for American foreign policy. While acknowledging that the US must be careful about why, when, and how it uses force, he insists that its international role is as critical as ever, and armed force is vital to that role. The rise of a well-armed China, Russia's conquest of Crimea and eastern Ukraine, nuclear threats from North Korea and Iran, and the spread of radical Islamist movements like ISIS are some of the key threats to global peace. If the United States relinquishes its position as a strong but prudent military power, and fails to accept its role as the guardian of a stable world order, it runs the risk of unleashing disorder, violence and tyranny on a scale not seen since the 1930s.

Israel under Siege: The Politics of Insecurity and the Rise of the Israeli Neo-Revisionist Right
Raffaella A. Del Sarto, Associate Professor of Middle East Studies

Del Sarto examines the creation of Israel's neo-revisionist consensus about security threats and regional order, which took hold of Israeli politics and society after 2000 and persists today. The failed Oslo peace process and the trauma of the Second Palestinian Intifada triggered this shift to the right; conflicts with Hamas and Hezbollah and the inflammatory rhetoric of Iranian President Ahmadinejad additionally contributed to the creation of a general sense of being under siege. She concludes that Israel's feeling of besiegement has become entrenched, a two-state solution with the Palestinians is highly unlikely for the foreseeable future, and Israel's international isolation is likely to increase.

Can Fixing Dinner Fix the Planet?
Jessica Fanzo, Interim Vice Dean for Faculty Affairs and International Research Cooperation, Bloomberg Distinguished Professor of Food Ethics and Policy; Director of the Global Food Ethics and Policy Program

In Can Fixing Dinner Fix the Planet? Jessica Fanzo explores the interactions among food systems, diets, human health, and the climate crisis. Drawing upon her decades of hands-on research projects in Africa, Asia, Europe, and the Americas, Fanzo describes how food systems must evolve to promote healthy, sustainable, and equitable diets. By sharing new ideas and successful examples of programs and policies, she offers hope that there are ways forward and describes the individual and systemic changes that we all must make to slow and ultimately reverse catastrophic trends.

Nuclear Statecraft: History and Strategy in America's Atomic Age 
Francis J. Gavin, Giovanni Agnelli Distinguished Professor; Director of the Henry A. Kissinger Center for Global Affairs

In Nuclear Statecraft, Gavin challenges key elements of the widely accepted narrative about the history of the atomic age and the consequences of the nuclear revolution. On the basis of recently declassified documents, Gavin reassesses the strategy of flexible response, the influence of nuclear weapons during the Berlin Crisis, the origins of and motivations for U.S. nuclear nonproliferation policy, and how to assess the nuclear dangers we face today.

Gold, Dollars, and Power: The Politics of International Monetary Relations, 1958-1971 
Francis J. Gavin, Giovanni Agnelli Distinguished Professor; Director of the Henry A. Kissinger Center for Global Affairs

Exploiting recently declassified documents from both the United States and Europe and employing economic analysis and international relations theory, Gavin offers a compelling reassessment of the Bretton Woods system of fixed exchange rates and dollar-gold convertibility, which he demonstrates to have been a highly politicized system that was prone to crisis and required constant intervention and controls to continue functioning. The politicization of the global payments system allowed nations to use monetary coercion to achieve political and security ends, causing deep conflicts within the Western Alliance. Gavin reveals how these rifts dramatically affected U.S. political and military strategy during a dangerous period of the Cold War.

Cold War Europe: The Politics of a Contested Continent 
Mark Gilbert, Professor of History and International Studies

This compelling history of Europe's Cold War follows the dramatic arc of the conflict that shaped the development of the continent and defined world politics in the second half of the twentieth century. Focusing on European actors and events, Gilbert traces the onset of the Cold War, the process of Stalinization in the Soviet bloc, and the difficulties of legitimization experienced by communist regimes in Hungary, Poland, and East Germany even after Stalin's death. He also shows how Washington's leadership and worldview was contested in Western Europe, especially by Great Britain and French president Charles de Gaulle.

Dual Transitions from Authoritarian Rule: Institutionalized Regimes in Chile and Mexico, 1970–2000
Francisco E. González, Riordan Roett Senior Associate Professor of Latin American Studies

In Dual Transitions from Authoritarian Rule, González explains why Chile's repressive military dictatorship and Mexico's hegemonic civilian regime survived Latin America's region-wide financial upheaval of the early 1980s and how each progressed toward a more open, democratic, market-driven system in later years. González explains that the two governments—though quite different ideologically—possessed a common type of institutionalized authoritarian rule that not only served to maintain the political status quo but, paradoxically, also aided proponents of political and economic liberalization. This book presents a cogent challenge to the received wisdom that sociopolitical and economic change within authoritarian nations must be approached separately.

The Cold War
John L. Harper, Kenneth H. Keller Professor and Professor of American Foreign Policy

The East-West struggle for supremacy from 1945 to 1989 shaped the lives of hundreds of millions and brought the world to the brink of disaster on several occasions. More than two decades on, the debate over its causes and dynamics is far from over. Drawing on the latest archival evidence and scholarly research, Harper provides a concise, briskly-written assessment of the Cold War.

Identity Politics Inside Out: National Identity Contestation and Foreign Policy in Turkey
Lisel Hintz, Assistant Professor of International Relations and European Studies

In Identity Politics Inside Out, Lisel Hintz teases out the complex link between identity politics and foreign policy using an in-depth study of Turkey. Rather than treating national identity as cause or consequence of a state's foreign policy, she repositions foreign policy as an arena in which contestation among competing proposals for national identity takes place. Drawing from a broad array of sources in popular culture, social media, interviews, surveys, and archives, she identifies competing visions of Turkish identity and theorizes when and how internal identity politics becomes externalized.

Costs of Democracy: Political Finance in India 
Devesh Kapur (co-author), Starr Foundation Professor of South Asian Studies

One of the most troubling critiques of contemporary democracy is the inability of representative governments to regulate the deluge of money in politics. If it is impossible to conceive of democracies without elections, it is equally impractical to imagine elections without money. Costs of Democracy is an exhaustive, ground-breaking study of money in Indian politics, opening readers' eyes to the opaque and enigmatic ways in which money flows through the political arteries of the world's largest democracy.

Trade Blocs: Economics and Politics
Pravin Krishna, Chung Ju Yung Distinguished Professor of International Economics and Business

Despite the successes achieved in liberalizing trade by multilateral trade negotiations sponsored by the World Trade Organization (WTO), numerous countries have separately negotiated preferential trade treaties with one another. Representing a significant departure from the WTO's central principle of non-discrimination among member countries, preferential trade blocs are the subject of an intense academic and policy debate. The first section of this book presents a rudimentary and intuitive introduction to the economics of preferential trade agreements. The following chapters present the author's theoretical and empirical research on a number of questions surrounding the issue of preferential trade agreements including the design of necessarily welfare-improving trade blocs, the quantitative (econometric) evaluation of the economic (welfare) impact of preferential trade liberalization, and the impact of preferential trade agreements and the multilateral trade system.

Following the Leader: Ruling China, from Deng Xiaoping to Xi Jinping
David M. Lampton, Professor Emeritus of China Studies; Senior Fellow, Foreign Policy Institute
 
With unique access to Chinese leaders at all levels of the party and government, best-selling author David M. Lampton tells the story of China's political elites from their own perspectives. Based on over five hundred interviews, Following the Leader offers a rare glimpse into how the attitudes and ideas of those at the top have evolved over the past four decades. Here China's rulers explain their strategies and ideas for moving the nation forward, share their reflections on matters of leadership and policy, and discuss the challenges that keep them awake at night.
 
Imperial Rule and the Politics of Nationalism: Anti-Colonial Protest in the French Empire
Adria K. Lawrence, Aronson Associate Professor of International Studies and Political Science

Drawing on archival sources, comparative historical analysis, and case studies, Lawrence examines the movements for political equality that emerged in the French empire during the first half of the twentieth century. Within twenty years, they had been replaced by movements for national independence in the majority of French colonies, protectorates, and mandates. Lawrence shows that elites in the colonies shifted from demands for egalitarian reforms to calls for independent statehood only where the French refused to grant political rights to colonial subjects. Nationalist discourses became dominant as a consequence of the failure to reform. Mass protests then erupted in full force when French rule was disrupted by war or decolonization.

Working with the Grain: Integrating Governance and Growth in Development Strategies
Brian Levy, Professor of the Practice of International Development

"Best practices" prescriptions for reform have long dominated the development discourse, but they are not a useful way of responding to the governance ambiguities of the early 21st century. Working with the Grain: Integrating Governance and Growth in Development Strategies draws on both innovative scholarship and the author's quarter century experience at the World Bank to lay out an alternative — a practical, analytically grounded, "with-the-grain" approach to addressing the twin development challenges of reducing poverty and weaknesses in governance.

Net Assessment and Military Strategy: Retrospective and Prospective Essays
Thomas G. Mahnken, (co-editor), Senior Research Professor; Director of External Programs for the Philip Merrill Center for Strategic Studies

The Office of Net Assessment (ONA) was responsible for carrying out three programs in the Department of Defense from November 1973 until the collapse of the Soviet Union. Net assessments utilize a multidisciplinary approach to defense analysis to capture the dynamics of national or coalition military strengths and weaknesses for comparison with the capabilities of competitors and adversaries. In this book, essays by experts including a number of individuals who have served in or worked for the ONA in the past, such as Andrew Marshall (Director of the United States Department of Defense's Office of Net Assessment, 1973-2015) and Andrew May (Associate Director of the United States Department of Defense's Office of Net Assessment) offer critical insights on the relative military power of the United States vis-à-vis potential adversaries over time. This book is an invaluable resource for scholars and students in international relations, political science, and conflict and security.

Mission Failure: America and the World in the Post-Cold War Era
Michael Mandelbaum, Professor Emeritus

The end of the Cold War led to a dramatic and fundamental change in the foreign policy of the United States. In Mission Failure, Mandelbaum explains how US interventions came to be central to America's ambitious but deeply flawed post-Cold War foreign policy, even in relations with China and Russia in the early 1990s and in American diplomacy in the Middle East, and how they all failed. Mandelbaum shows how American efforts to bring peace, national unity, democracy, and free-market economies to poor, disorderly countries ran afoul of ethnic and sectarian loyalties and hatreds and foundered as well on the absence of the historical experiences and political habits, skills, and values that Western institutions require.

The Frugal Superpower: America's Global Leadership in a Cash-Strapped Era
Michael Mandelbaum, Professor Emeritus

During the seven decades from the US entry into World War II in 1941 to the present, economic constraints rarely limited what the United States did in the world. Now that will change. The country's soaring deficits, fueled by the huge costs of the financial crash and of its entitlement programs, will compel a more modest American international presence. In assessing the consequences of this new, less expensive foreign policy, Mandelbaum describes the policies the United States will have to discontinue, assesses the potential threats from China, Russia, and Iran, and recommends a new policy, centered on a reduction in the nation's dependence on foreign oil.

China's Western Horizon: Beijing and the New Geopolitics of Eurasia
Daniel S. Markey, Senior Research Professor in International Relations; Academic Director of Master of Arts in Global Policy Program

In China's Western Horizon, Daniel S. Markey, a scholar of international relations and former member of the U.S. State Department's policy planning staff, previews how China's efforts are likely to play out across the swath of Eurasia that includes South Asia, Central Asia, and the Middle East. Drawing from extensive interviews, travels, and historical research, Markey describes how perceptions of China vary widely within states such as Pakistan, Kazakhstan, and Iran. Powerful and privileged groups across the region often expect to profit from their connections to China, while others fear commercial and political losses. Similarly, Eurasian statesmen are scrambling to harness China's energy purchases, arms sales, and infrastructure investment. These leaders are working with China in order to outdo their strategic competitors, including India and Saudi Arabia, and simultaneously negotiating relations with Russia and America. 
 
The Dispensable Nation: American Foreign Policy in Retreat
Vali Nasr, Majid Khadduri Professor of Middle East Studies and International Affairs

Forcefully persuasive, The Dispensable Nation is a game changer for America as it charts a course in the Muslim world, Asia, and beyond. Nasr, a Middle East scholar, foreign policy advisor, and commentator on international relations, shows how the Obama administration missed its chance to improve US relations with the Middle East by continuing to pursue its predecessor's questionable strategies there.

The Nigerian National Assembly
Chiedo Nwankwor (co-authored); Lecturer and Director of SAIS Women Lead

This book examines the role of the legislature in the democratic governance of Nigeria. Once one of the foremost political institutions of governance established in the early days of Colonial administration in Nigeria, the legislature has had an inconsistent role since statehood, subject to repeat dissolution at the hands of various military regimes. Focusing on the Nigerian Fourth Republic's National Assembly (1999-present), this book discusses in detail the ways in which the national assembly has handled each of its major functions, the nature of the relationship between the assembly and the legislature, and the institutional mechanism through which its internal business is facilitated and executed.

Italian Democracy: How It Works
Gianfranco Pasquino, Senior Adjunct Professor of European and Eurasian Studies
 
Providing the readers with the knowledge necessary to understand the working of the Italian political system, it also offers answers to some of the most important challenges facing the country – and other contemporary democracies – today, such as populism, anti-politics and corruption. Critical but underpinned by thorough data and analysis, it presents alternative views alongside the author's interpretation. Crucially, the book uses a comparative framework to explain Italy's transformation and evaluate its performance. Comparing the rules, institutions, parties and actors at work in the most important European political systems – France, Germany, Great Britain – with those in Italy, the Italian context is better understood and assessed in contrast.
 
Active Measures: The Secret History of Disinformation and Political Warfare
Thomas Rid, Professor of Strategic Studies

We live in the age of disinformation―of organized deception. Spy agencies pour vast resources into hacking, leaking, and forging data, often with the goal of weakening the very foundation of liberal democracy: trust in facts. Thomas Rid, a renowned expert on technology and national security, was one of the first to sound the alarm. More than four months before the 2016 election, he warned that Russian military intelligence was "carefully planning and timing a high-stakes political campaign" to disrupt the democratic process. But as crafty as such so-called active measures have become, they are not new.
 
Rise of the Machines: A Cybernetic History
Thomas Rid, Professor of Strategic Studies

As lives offline and online merge even more, it is easy to forget how we got here. Rise of the Machines reclaims the spectacular story of cybernetics, one of the twentieth century's pivotal ideas. Springing from the mind of mathematician Norbert Wiener amid the devastation of World War II, the cybernetic vision underpinned a host of seductive myths about the future of machines. Cybernetics triggered blissful cults and military gizmos, the Whole Earth Catalog and the air force's foray into virtual space, as well as crypto-anarchists fighting for internet freedom. In Rise of the Machines, Rid draws on unpublished sources—including interviews with hippies, anarchists, sleuths, and spies—to offer an unparalleled perspective into our anxious embrace of technology.

Brazil: What Everyone Needs to Know
Riordan Roett, Professor and Director Emeritus of the Latin American Studies Program

Roett provides a rich overview of Brazil, covering Brazilian society, politics, culture, and the economy. The book begins with a series of chapters on Brazilian history, beginning with the pre-colonial period and moving on, in succession, to the long era of Portuguese rule, the birth of independent Brazil, the emergence of modern Brazil in the 1930s, the era of the dictators, and—finally—to the democratic regime that came into being in the 1980s. Throughout the book, Roett will focus sharply on the fault lines—racial, economic, political, and cultural—that have plagued Brazil from its beginnings to this day.

1989: The Struggle to Create Post-Cold War Europe
Mary Elise Sarotte, Marie-Josée and Henry R. Kravis Distinguished Professor of Historical Studies; Henry A. Kissinger Center for Global Affairs

Sarotte explores the momentous events following the fall of the Berlin Wall and the effects they have had on our world ever since. Based on documents, interviews, and television broadcasts from Washington, London, Paris, Bonn, Berlin, Warsaw, Moscow, and other locations, 1989 describes how Germany unified, NATO expansion began, and Russia got left on the periphery of the new Europe.

The Collapse: The Accidental Opening of the Berlin Wall
Mary Elise Sarotte, Marie-Josée and Henry R. Kravis Distinguished Professor of Historical Studies; Henry A. Kissinger Center for Global Affairs

The Wall—infamous symbol of divided Cold War Europe—seemed to be falling. But the opening of the gates that night was not planned by the East German ruling regime—nor was it the result of a bargain between either Ronald Reagan or George H.W. Bush and Soviet leader Mikhail Gorbachev. It was an accident. In The Collapse, Sarotte reveals how a perfect storm of decisions made by daring underground revolutionaries, disgruntled Stasi officers, and dictatorial party bosses sparked an unexpected series of events culminating in the chaotic fall of the Wall. She brings to vivid life a story that sweeps across Budapest, Prague, Dresden, and Leipzig and up to the armed checkpoints in Berlin. Drawing on new archival sources and dozens of interviews, The Collapse offers the definitive account of the night that brought down the Berlin Wall.

From War to Peace in the Balkans, the Middle East and Ukraine (Palgrave Critical Studies in Post-Conflict Recovery)
Daniel Serwer, Professor of Practice

This open access book focuses on the origins, consequences and aftermath of the 1995 and 1999 Western military interventions that led to the end of the most recent Balkan wars. Though challenging problems remain in Bosnia, Macedonia, Kosovo, and Serbia, the conflict prevention and state-building efforts thereafter were partly successful as countries of the region are on separate tracks towards European Union membership. This study highlights lessons that can be applied to the Middle East and Ukraine, where similar conflicts are likewise challenging sovereignty and territorial integrity. It is an accessible treatment of what makes war and how to make peace ideal for all readers interested in how violent international conflicts can be managed, informed by the experience of a practitioner.
 
Righting the Balance: How You Can Help Protect America
Daniel Serwer, Professor of Practice

In Righting the Balance, Serwer focuses on what should be done to protect the United States by offering alternatives that move away from an exclusive reliance on the military. Most fundamentally, Serwer stresses that civilians—diplomats, aid workers, UN officials, humanitarians, police trainers, lawyers, judges, entrepreneurs—can and should be involved in helping bring about peace. Righting the Balance offers a proposal to reform our civilian institutions for the twenty-first century so that they can help deliver real results in the search for peace even when confronting difficult conditions in faraway places.

Exiting the Cold War, Entering a New World
Kristina Spohr, (co-editor), Helmut Schmidt Distinguished Professor; Henry A. Kissinger Center for Global Affairs

This book explores how and why the dangerous yet seemingly durable and stable world order forged during the Cold War collapsed in 1989, and how a new order was improvised out of its ruins. It is an unusual blend of memoir and scholarship that takes us back to the years when the East-West conflict came to a sudden end and a new world was born.

Open Door: NATO and Euro-Atlantic Security After the Cold War
Kristina Spohr, Helmut Schmidt Distinguished Professor; Henry A. Kissinger Center for Global Affairs

NATO's decision to open itself to new members and new missions is one of the most contentious and least understood issues of the post-Cold War world.
 
This book, an unusual and intriguing blend of memoirs and scholarship, takes us back to the decade when those momentous decisions were made. Former senior officials from the United States, Russia, Western and Eastern Europe who were directly involved in the decisions of that time describe their considerations, concerns, and pressures. They are joined by scholars who have been able to draw on newly declassified archival sources to revisit NATO's evolving role in the 1990s.

Post Wall, Post Square: How Bush, Gorbachev, Kohl, and Deng Shaped the World after 1989
Kristina Spohr, (co-editor), Helmut Schmidt Distinguished Professor; Henry A. Kissinger Center for Global Affairs
 
This book offers a bold new interpretation of the revolutions of 1989, showing how a new world order was forged—without major conflict. Based on extensive archival research, Kristina Spohr attributes this in large measure to determined diplomacy by a handful of international leaders, who engaged in tough but cooperative negotiation to reinvent the institutions of the Cold War. She offers a major reappraisal of George H. W. Bush and innovative assessments of Mikhail Gorbachev and Helmut Kohl, as well as Margaret Thatcher and François Mitterrand. But, she argues, Europe's transformation must be understood in global context. By contrasting events in Berlin and Moscow with the brutal suppression of the pro-democracy movement in Beijing, the book reveals how Deng Xiaoping pushed through China's very different Communist reinvention. Here is an authoritative yet highly readable exploration of the crucial hinge years of 1989–1992 and their consequences for today's world.
 
Demanding Devaluation: Exchange Rate Politics in the Developing World
David A. Steinberg, Associate Professor of International Political Economy

Combining rich qualitative case studies of China, Argentina, South Korea, Mexico, and Iran with cross-national statistical analyses, Steinberg reveals that exchange rate policy is heavily influenced by the demands of powerful interest groups. A country's domestic political system helps determine whether it undervalues its exchange rate and experiences explosive economic growth or if it overvalues its exchange rate and sees its economy stagnate as a result.

Demystifying the American Military: Institutions Evolution and Challenges Since 1789 
Paula Georgia Thornhill, Acting Director of Strategic Studies; Associate Professor of the Practice

The United States military has evolved from a tiny and distrusted institution at the margins of government into a central element of America and American power, yet the military is sometimes hard to comprehend because of its unique language, history, and culture. Paula Thornhill first provides a primer for understanding America's military services. She then traces the military's evolution from the nation's founding through the present day to reveal how major American experiences repeatedly reshape the military. This examination offers a constant reminder that the armed services are the products of experience and accident. Thus, today's twenty-first century military reflects patterns of adaptation and agglomeration, and so may only partially reveal the ideal military America would build if starting from a blank slate. Ultimately, this book seeks to open a window into the American military in such a way that the reader can see it, for good or for ill, for what it fundamentally is--a reflection of the nation, its priorities, and its people.
 
International Multiparty Mediation and Conflict Management
Sinisa Vukovic, Senior Lecturer of Conflict Management and Global Policy, Associate Director of the Conflict Management Program

Contemporary scholarship stresses that the crucial ingredients for a successful multiparty mediation are 'consistency in interests' and 'cooperation and coordination' between mediators. This book seeks to supplement that understanding by investigating how much the 'consistency of interests' and 'cooperation and coordination' affect the overall process, and what happens to the mediation process when mediating parties do not share the same idea and interest in finding a common solution. At the same time, it explores the obstacles in achieving coordination and coherence between various mediators in such an environment and how to surmount the problems that multiple mediators face when operating without a 'common script' in attempting to mediate a negotiated settlement.

Preventing Deadly Conflict
I. William Zartman, Professor Emeritus

Since the end of the Cold War, the prevention of conflict escalation into violence through management and resolution has become a fundamental objective of the international system. In this book, Zartman offers a clear and authoritative guide to the key challenges of conflict prevention and the norms, processes and methods used to dampen and diffuse inter- and intra-state conflict in the contemporary world. The search for prevention—necessary but still imperfect—continues into new imperatives, new mechanisms, new agents, and new knowledge, which this book helps discover and apply.