Individualized Job Search
Our talented career counselors can help you to define your career objectives, establish a career development plan, and provide one-on-one coaching to guide your exploration of career pathways.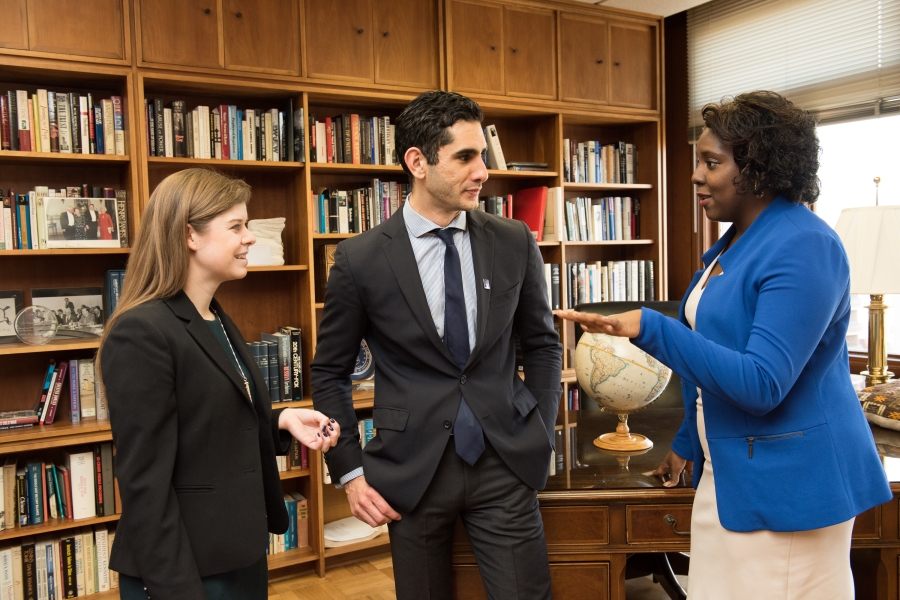 Build professional development skills
Gain expertise in topics such as Behavioral Interviewing, Salary Negotiation, Case Interviewing, Networking Strategies for International Job Searches, Federal Government Job Searches, and much more, while building professional development skills. 
Meet with alumni working in your chosen field
Our engaged alumni network is known for staying connected and actively supporting students through mentoring, hosting informational interviews, employer presentations, and more.
Connect with employers
Participate in Career Treks for insider perspectives on your target roles and industries. Join Industry Days and individual employer presentations for direct networking with recruiters interested in prospects with your skills.
Prepare for internship and job interviews
Industry Days, International Student Networking panels, and events such as SAIS Europe Career Day and Perfect Pitch help you reach the interview process. Skills workshops and coaching with alumni and counselors will ensure you are practiced and ready to impress.  
Accept job offers and negotiate salaries
Maximize your value through negotiating strategies to close a deal and begin the next chapter of your career.   
 
Washington DC Activities 
Industry/Regional Career Days
Industry and Regional Career Days bring leading alumni and recruiters to campus for in-depth discussions on careers in specific sectors and locations around the world. Sessions planned for the 2020-21 academic year will feature key employers in conflict management, consulting, defense and intelligence, development, energy and sustainability, federal government agencies, humanitarian relief, international trade, multilaterals, political risk analysis, technology, and more. These sessions provide students with an excellent opportunity to learn about employers while networking with recruiters and alumni. Employers participating at recent events include ACDI/VOCA, A.T. Kearney, The Avascent Group, Catholic Relief Services, Chemonics International, Clinton Health Access Initiative, Dalberg Global Development Advisors, FBI, IRS, Kroll, MicroVest Capital Management, MPowered Strategies, Population Services International, RAND Corporation, Search for Common Ground, Sidar Global Advisors, USAID, the US Department of State, the US Department of the Treasury, and the World Bank.
Students participating in the annual Perfect Pitch workshop develop and practice their 'Perfect Elevator Pitch' with alumni representing all sectors. Students receive valuable feedback and gain advice from accomplished alumni working in the fields of international finance, climate and energy, international development, national security, and more. The workshop is a great example of the school's active alumni network supporting students.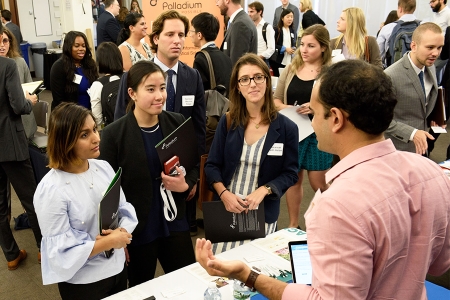 During the International Student Networking Panel, alumni discuss the challenges and benefits of networking and provide advice to international students to help them network effectively. Participating alumni represent a diverse array of industries and organizations, including Albright Stonebridge, Climate Advisors, Global Partnership for Education, and International Monetary Fund.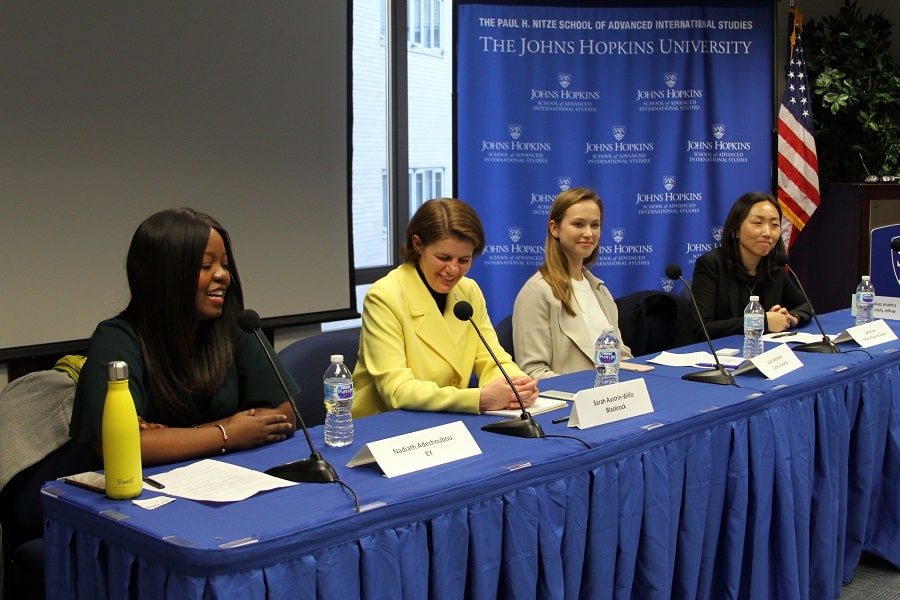 SAIS Europe Activities 
Career Day is an annual event hosted at SAIS Europe during Welcome Week. The event includes a series of 'speed interviews' with alumni, panel discussions featuring alumni, and a networking reception. Students gain insight and advice from alumni working in a wide variety of industries across Europe including consulting, finance, aid and relief, development, political risk, multilateral, and more.
Hopkins-Nanjing Center Activities 
Mini-Courses and Skills Courses
The HNC hosts professionally focused mini courses throughout the year taught by practitioners in various fields. Through mini courses students can learn about issues companies and organizations face in China while also developing skills needed for professional success. 
Employer Presentations
Nearly 200 employers meet with students each year to promote their work, explain the recruitment process, and collect resumes for internship and full-time positions.